PHOENIX 一 The WNBA Playoffs don't start until August 17. But for all intensive purposes, the playoffs began on the last day of July for the New York Liberty and Phoenix Mercury.
Both teams entered August as two of six teams, fighting for three remaining tickets to the postseason. The Liberty made an emphatic statement by defeating the Mercury 89-69 at home on July 31.
RELATED: New York Liberty Coach Sandy Brondello Earns First Win Against Mercury Since Leaving Phoenix
The two squads met for the third and final time Saturday with the season series on the line and a potential tiebreaker regarding playoffs scenarios at stake. Not only that, but add in the fact that New York head coach Sandy Brondello coached the Phoenix team that ended the Liberty's season in the playoffs last year.
With all of that said, there appears to be a rivalry being established between two teams who play on opposite coasts. The West Coast proved to be the best coast in 2022 for this matchup, as the Mercury prevailed 76-62 Saturday night to win the season series and reclaim the eighth seed.
"Diana really motivated them, and almost became another member of our coaching staff and was instrumental in getting the team fired up too in the locker room before the game and then on the bench," said Phoenix coach Vanessa Nygaard in her postgame presser. "Who thought we'd win a game without BG, Skylar Diggins and Diana Taurasi?"
New York did not have a single player on the inactive report as 2021 All-Star Betnijah Laney played for the first time since May 17 after being sidelined with a right knee injury.
"It was a lot, you know," Laney told HoopSocial after Saturday morning's shootaround. "Especially coming off a surgery before that and then to turn around and have surgery again. But throughout it all, I just tried to stay patient. I had a great support system around me. Whether it was the team, my family, my friends. 
"I'm just looking to come out and do whatever I can to help this team. Just ease my way into it. There's no pressure, there's no expectations as to what I have to do. The one thing that I will do is just come out and play hard and give it my all."
Unfortunately for Phoenix, they were missing four key players on Saturday evening. Diana Taurasi sat out with a right quad injury after being listed as questionable pregame. Skylar Diggins-Smith was a late scratch to the starting lineup and was not present at the Footprint Center due to a non-COVID illness. 
The third member of Phoenix's big three, Brittney Griner, remains detained in Russia for possessing hash oil. The eight-time All-Star has been jailed since February 17 (172 days) and was sentenced to nine years in a Russian prison on August 4.
"Today's verdict and sentencing is unjustified and unfortunate, but not unexpected and Brittney Griner remains wrongly detained," WNBA Commissioner Cathy Englebert and NBA Commissioner Adam Silver said Thursday in a joint statement. "The WNBA and NBA's commitment to her safe return has not wavered and it is our hope that we are near the end of this process of finally bringing BG home to the United States."
Kia Nurse has also been out all season for the Mercury as she recovers from a right ACL tear that she endured last season in the semifinals of the playoffs.
Without their big three, Phoenix had three other players step up. Diamond DeShields nearly outscored the Liberty by herself in the first period, scoring 14 points on 6-of-11 field goal attempts. The Mercury held a nine-point lead after the first 10 minutes of action at 25-16.
The budding rivals were even in the second quarter, as Phoenix led 43-34 at halftime. DeShields and Most Improved Player of the Year candidate Sophie Cunningham combined for 32 first-half points, with DeShields leading the way with 22 after 20 minutes.
New York's fully healthy roster suffered a devastating blow in the third period Saturday night when two-time All-Star Natasha Howard fell to the court clutching her right ankle and writhing on the hardwood in pain. The 6-foot-2 forward left the arena on crutches.
RELATED: New York's Dynamic Duo to Represent Liberty in All-Star Game
The Liberty announced Sunday that Howard is doubtful for their next game. As an eyewitness to the injury, the fact that Howard is considered doubtful rather than out indefinitely should be seen as a huge positive for New York and its fan base.
The Mercury carried a 58-46 lead into the final quarter. Shey Peddy got it going in the fourth, scoring 10 of her career-high 20 points in the final 10 minutes. Peddy also set a new career-high in made 3-pointers with four.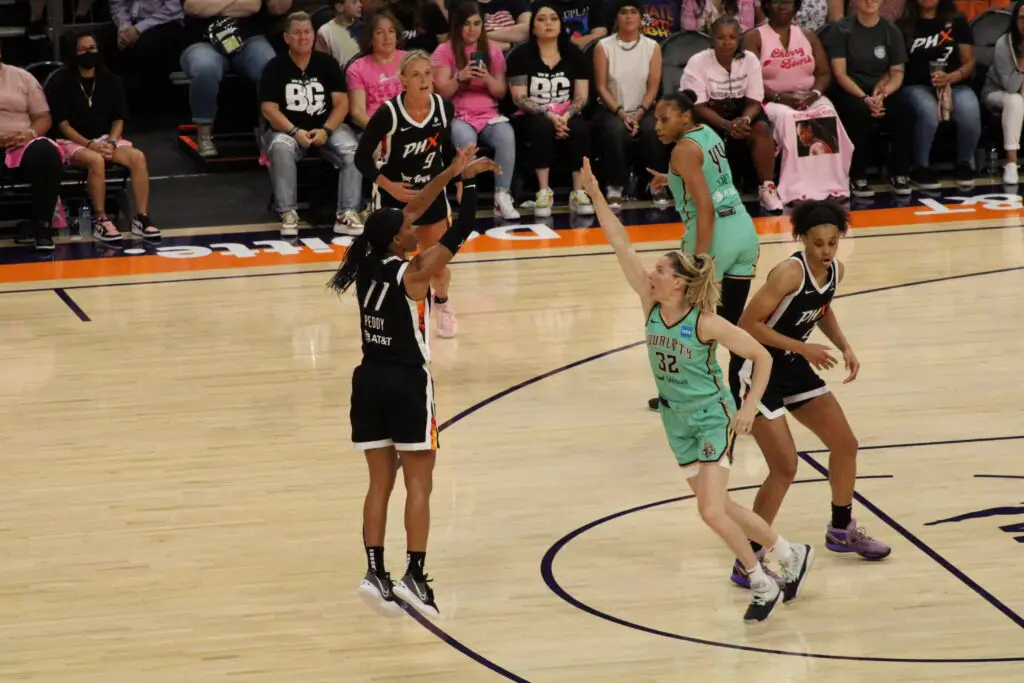 One particular play in the fourth period accurately summed up how the night went for the Liberty against the shorthanded Mercury. Peddy stood on the baseline, inbounded the ball off Stefanie Dolson's backside, dished it off to Jennie Simms and got it back behind the arc to nail a trey ball.
New York mounted a comeback attempt late in the game after trailing by 17, but the Liberty failed to hit a key shot down the stretch after cutting their deficit to 10. Without their big three, Phoenix reclaimed the eighth and final seed in the playoffs with eight days remaining in the regular season.
Nygaard spoke postgame about the impact that the 11,724 passionate Phoenix fans in attendance, known as the "X-Factor," made on the game.
"They were fantastic. Our home crowd is a factor. When they call them the X-Factor, it's because they are a factor in the game," Nygaard said. "They give us points. They give us defensive stops. Sometimes, they prevent me from getting technicals, by yelling at the referee, behind me, and then it's not me. It's extremely helpful. They're fantastic. You can feel their love for the team. They know that it's a tough year for us, with the BG situation, and they see how hard it's been for us these last couple of days. 
"Every time I'm out somewhere, someone says something to me about BG and I'm sure the same thing happens to the players. They show up even though we're not having our record-breaking season, or we're not the number one team in the league. They're still showing up to support the team, not just because we win, but because we're a great group and they care about us. The love goes both ways."
The Mercury now improves to 10-5 at home this season with three regular-season games left at the Footprint Center.
"It meant a lot to be at home and play in front of the X-Factor," Peddy said. "Day in and day out they come and support us and tonight they were loud, they were on their feet and they were encouraging us. We needed that comfort and it just felt good being in front of our home fans and get this win for them and ourselves."
DeShields finished with a season-high 25 points on 10-of-26 shots with eight rebounds. Cunningham had 18 points on 5-of-16 from the field and 2-of-8 from 3-point land.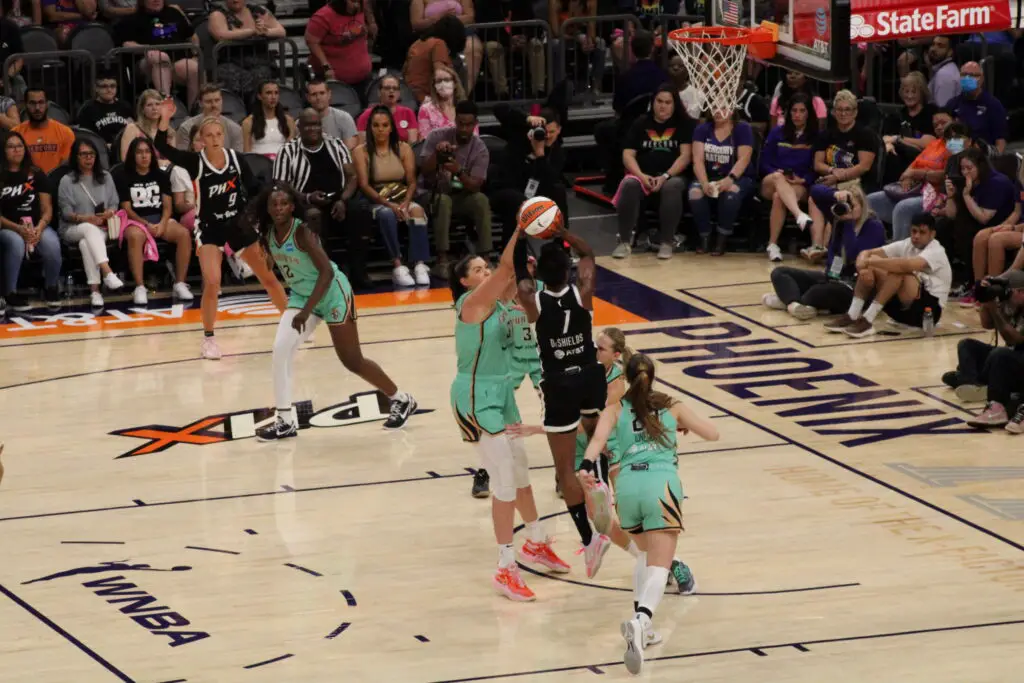 "We play basketball too," DeShields proclaimed. "We could play too. We do the same job, so you know it wasn't about size. It's about heart and tonight we decided to be there for each other and had each other's backs. No matter who was out on the floor and that's what it's all about."
Sabrina Ionescu was the only New York player to score in double-digits. The 2022 All-Star starter tallied 20 points (6-15 FG, 1-8 3PT, 7-8 FT), five rebounds and five assists. With her first assist of the game Saturday, Ionescu cemented herself in the WNBA record books once again.
According to ESPN, the Oregon alumna is the first player in WNBA history to record 200 rebounds and 200 assists in a single season.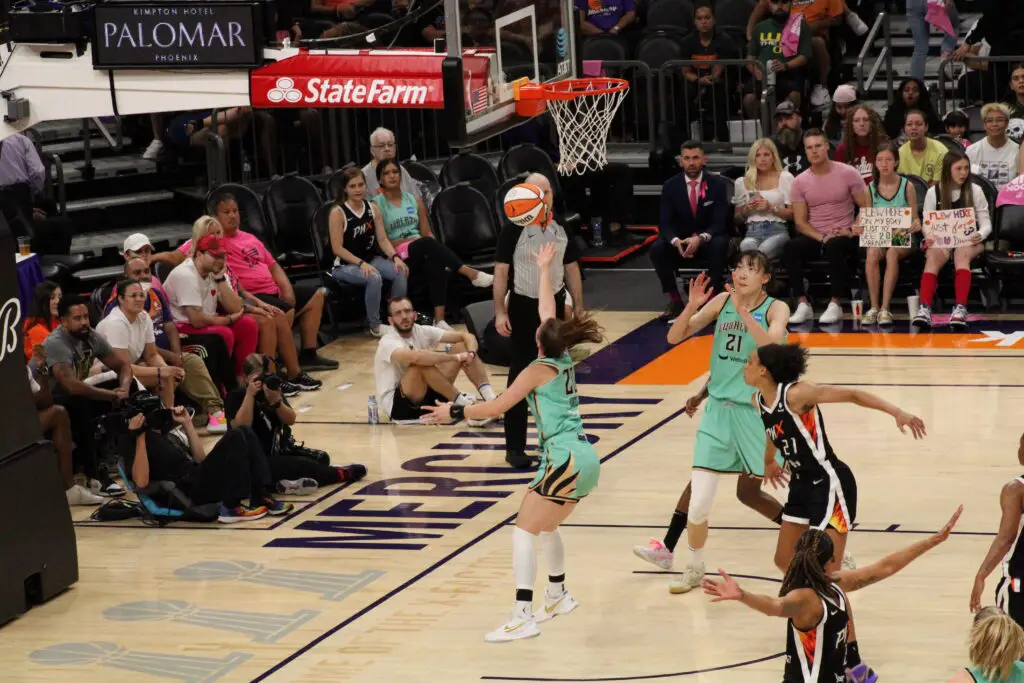 Following Sunday's four-game slate, the No. 7 through 11 seeds in the standings are separated by only one game. The Mercury (14-19) have the same record as the seventh place Atlanta Dream but are currently in eighth due to tiebreakers. The Liberty (13-19) are just on the outside looking in at No. 9, sandwiched in between Phoenix/Atlanta and Minnesota/Los Angeles (13-20).
New York will attempt to rebound from the defeat Monday night at Dallas (16-16), who is the No. 6 seed and has nearly clinched a spot in the postseason dance. Phoenix plays next on Wednesday evening at home against Minnesota.