Sunday was a great day for New York Liberty head coach Sandy Brondello.
Her team emphatically won the first of eight key games against teams they are directly competing against down the stretch to make the WNBA Playoffs. Plus, Brondello got her first win against the Mercury since departing Phoenix after eight years for New York following last season.
To say the least, the Liberty's 89-69 wire-to-wire win over the No. 7 seed Mercury meant a lot to Brondello and her team. Not just because the margin of victory was the largest of the season, either.
"We control our own destiny here," Brondello said to the media postgame. "Phoenix can be really dangerous. They can put a lot of points on the board. I thought our game plan was good."
New York jumped out to a 7-0 lead Sunday afternoon and never looked back. The Liberty outscored Phoenix in each quarter, including a 30-19 fourth that helped New York pull away for the 20-point victory.
"This game was very important," said Liberty forward Natasha Howard. "We knew that we needed this win to at least get to the point of making the playoffs. Today was the start right here. Now we have seven games left and need to keep building and keep building."
All five starters scored in double-figures for the Liberty. Howard led the way with a game-high 23 points. Rebecca Allen and Crystal Dangerfield, who recorded a new season-high, each had 17 points. Sabrina Ionescu and Stephanie Dolson scored 10 a piece.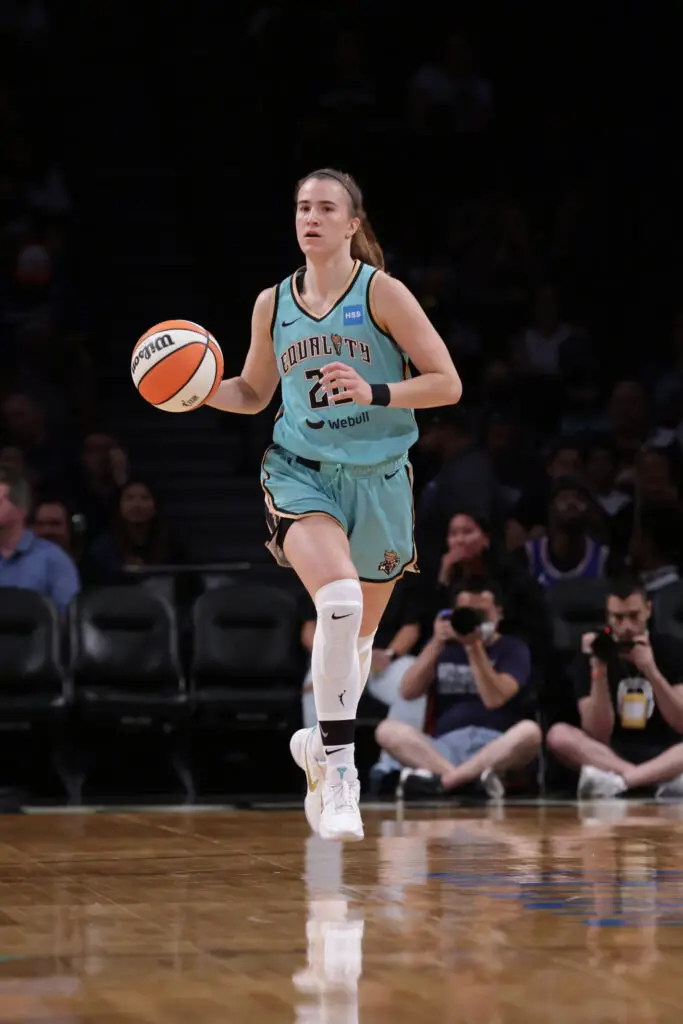 "It's always nice when you can get five players in double-figures," Brondello said. "I think that makes it really hard to guard."
Howard scored in an efficient fashion, converting 10-of-13 (76.9%) from the field. The 6-foot-2 power forward made her only 3-point attempt and was 2-of-3 from behind the charity stripe with 12 rebounds and six assists. 
The two-time All-Star recorded her fourth consecutive double-double and eighth of the season. Per the Liberty, Howard is the first New York player to have four straight double-doubles since Tina Charles did it in September 2016.
"She's so dynamic in those two-man games, especially with an open outside, just how she rolls and cuts to the rim," Brondello said. "Tashy is so important for us defensively, but when she's the pick-and-roll player and getting into the back to the basket, that's when she's at her best and she's done a great job.
"We're going to need that. All the big-time players in this league need to come every single day and give your team (a big contribution)."
RELATED: New York's Dynamic Duo to Represent Liberty in All-Star Game
The history didn't end there. Ionescu struggled to knock down her shots Sunday, but that didn't hinder her overall contribution to the team as one of its leaders.
The third-year guard flirted with what would've been a WNBA-record fourth triple-double of her young career. Ionescu scored 10 points on 14 total shots while adding a franchise-record 16 assists, eight rebounds and two steals.
With her career-high 16 assists, the 2022 All-Star starter tied Chicago's Courtney Vandersloot and Sacramento Monarchs legend Ticha Penicheiro for the second-most single-game assists in WNBA history.
"Sabrina is a really talented basketball player," Brondello said. "I just want her to take what (the) defense gives us. She is a fantastic passer. It really is good for such a young player, her court vision, it reminds me of Diana Taurasi, really."
The Liberty franchise record for assists in a game was previously shared by Teresa Witherspoon, who was in attendance Sunday, and Cappie Pondexter, each player tallying 13 in a game during their respective careers, per the Liberty. Also in attendance Sunday was former Liberty player Sue Wicks.
"Their message to us was to keep it going," Dangerfield said about the Liberty legends in attendance. "The fight and the passion that they played with, and watching ('Unfinished Business'), it gave me chills through the whole (documentary). They built what we're trying to continue here."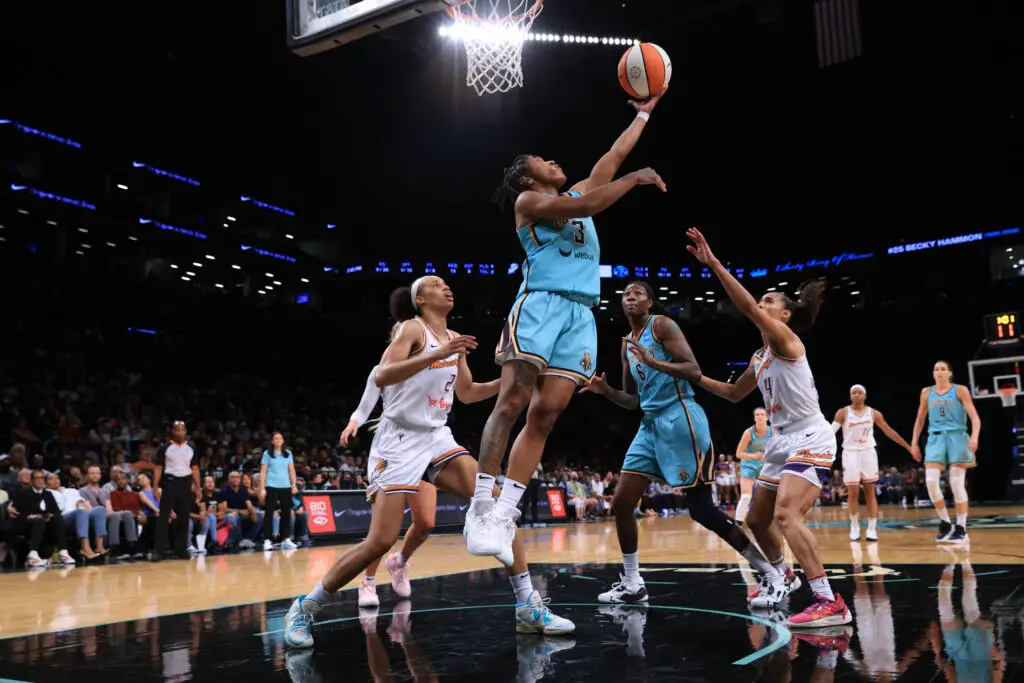 Phoenix was led in scoring by Sophie Cunningham who had 21 points on 7-of-16 from the field, 3-of-9 from 3-point territory and 4-of-4 from the free-throw line. Skylar Diggins-Smith and Taurasi each had shooting performances they'd rather forget, combining to make 8-of-30 field goal attempts. Diggins-Smith had a double-double with 13 points and 11 assists while the G.O.A.T. scored 12.
"We slowed Diana down and we slowed Sky," Brondello said. "(Skylar) got some open looks and she missed them. Obviously, some days she can make those. I thought we overhelped a little bit off Sophie Cunningham. We had some breakdowns, but we kept them to a losing score and I think that's the most important thing."
More than halfway through her fourth campaign with the Mercury, Cunningham has more than doubled her points per game average (11.8) from last season (5.6), which is her current season-high until it is topped by a completed 2022 season.
Cunningham had three double-digit scoring performances through the first 10 games of this season. The Mizzou alumna has now scored in double-figures in 11 consecutive games and is making her case for the 2022 WNBA Most Improved Player award.
The Mercury also had all five starters score in double-digits. However, for further context, Phoenix did not have a single point scored from its bench and only had two shot attempts combined from the five players who came off the bench Sunday.
RELATED: Don't overlook Sparks forward Nneka Ogwumike's case for WNBA MVP
As a unit, the Liberty had a great day shooting from 3-point land, knocking down 12-of-26 (46.2%) 3-point attempts. New York also drastically outrebounded Phoenix, 42-26.
As we enter the final two weeks of the 2022 WNBA regular season, the No. 6 through No. 11 seeds are separated by two games. Following a Lynx win over the Sparks on Sunday night, the Liberty now find themselves at the bottom of the standings among contending teams fighting to get into the postseason.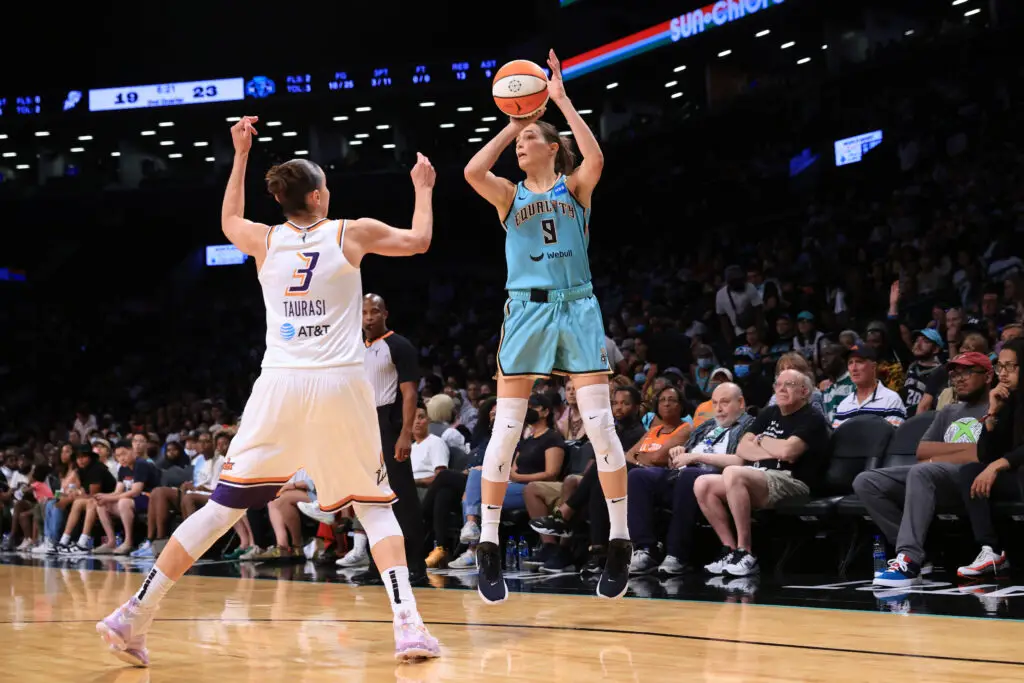 Of the 12 head-to-head matchups remaining between the six teams playing for three spots, New York is in seven of them. All of the Liberty's remaining regular season games are against teams they are directly competing with for a playoff spot.
As Sandy said, New York controls its own destiny.
"I think we know the situation that we're in," Brondello proclaimed with a giggle. "You wish that you had that same urgency all season long. I think it's just a little more confidence with each other. When you're losing, you get in your own head a little bit. For me, I stay pretty even-keel because it's a long season."
"Everyone wants to be in the playoffs, so you gotta be locked in."
The Liberty play next against the Los Angeles Sparks at home while the Mercury travels to Connecticut to take on the Sun. Both games are set to tip off on Tuesday evening at 7 p.m. EST/4 p.m. PST.