LAS VEGAS 一 In the first battle between "super teams" on the biggest stage, the reigning WNBA champions stepped up their defense in the second half to begin the 2023 WNBA Finals with a victory.
After trailing by three at halftime, Las Vegas outscored New York by 10 points in each of the third and fourth quarters, respectively, to earn a convincing 99-82 game one win on its home court at Michelob Ultra Arena.
"We gave ourselves a C-, they actually gave themselves a D and I said 'I don't think we were that bad' in that first half. They turned it around to an A," explained Aces head coach Becky Hammon.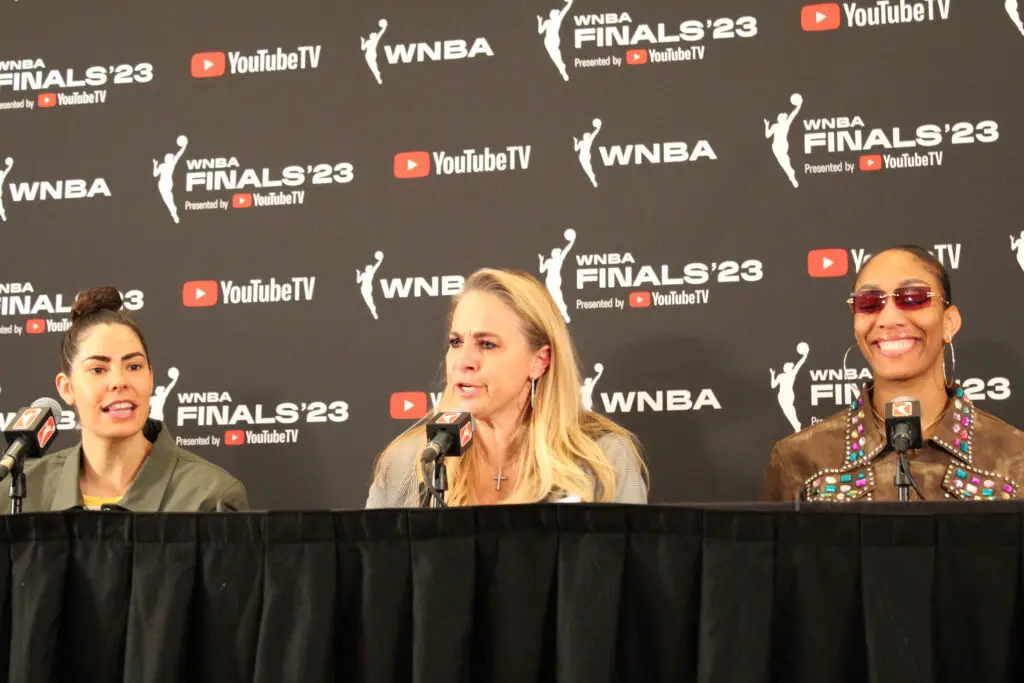 "We just felt like we could do some things better. I thought they played a pretty good first half. I didn't like our defense in the first half so we just kind of amped up our defense, locked in and tried to stay solid."
Las Vegas was led to the victory by Jackie Young and Kelsey Plum, who each scored a game-high 26 points. Young was mentioned before tip off by Hammon as one of the Aces' X-factors to win the series.
"I think Jackie Young could have a huge series," Hammon said pregame. "She's going to have the toughest perimeter assignment. I think we can utilize her more offensively too."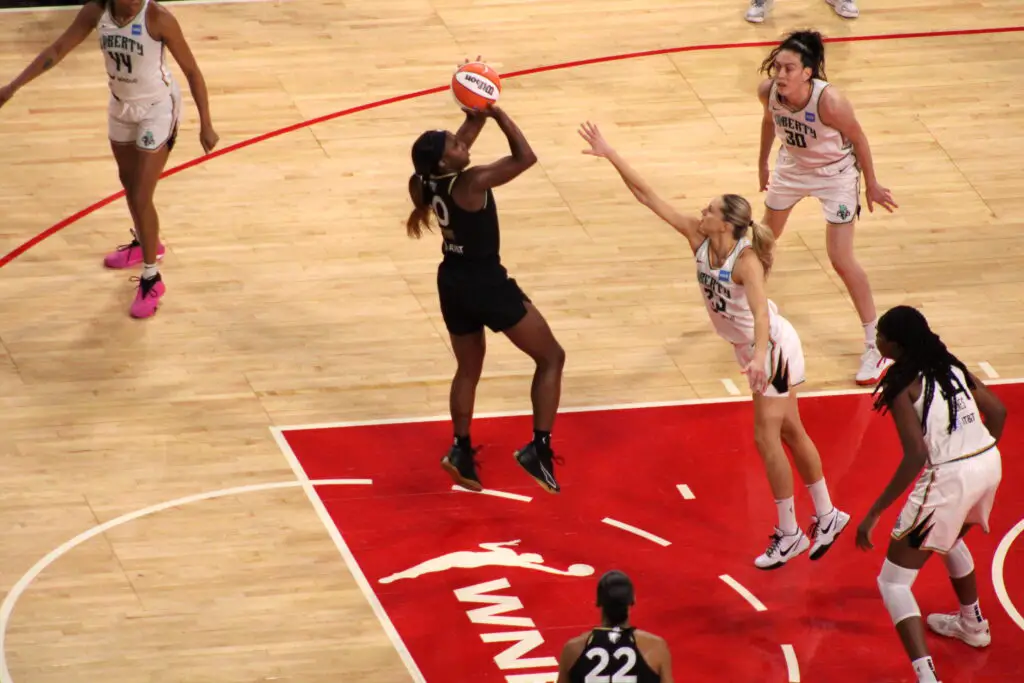 Young was very efficient Sunday afternoon, knocking down 9-of-15 from the field and 5-of-8 from 3-point range. The former No. 1 overall pick in the 2019 WNBA Draft, who is normally soft-spoken, appreciates the confidence instilled in her by Hammon and her teammates.
"She's believed in me since she got here last year," Young recalled. "She has a lot of confidence in me. I know my teammates and coaches do. That gives me confidence to be able to just go out there and play my game. Just being aggressive from the beginning, hit open shots and take what the defense gives me. 
"The biggest thing is just being confident. I know everybody believes in me and trusts in me."
Plum shot 10-of-19 field goals and was a perfect 5-of-5 from the free-throw line with five rebounds and one assist.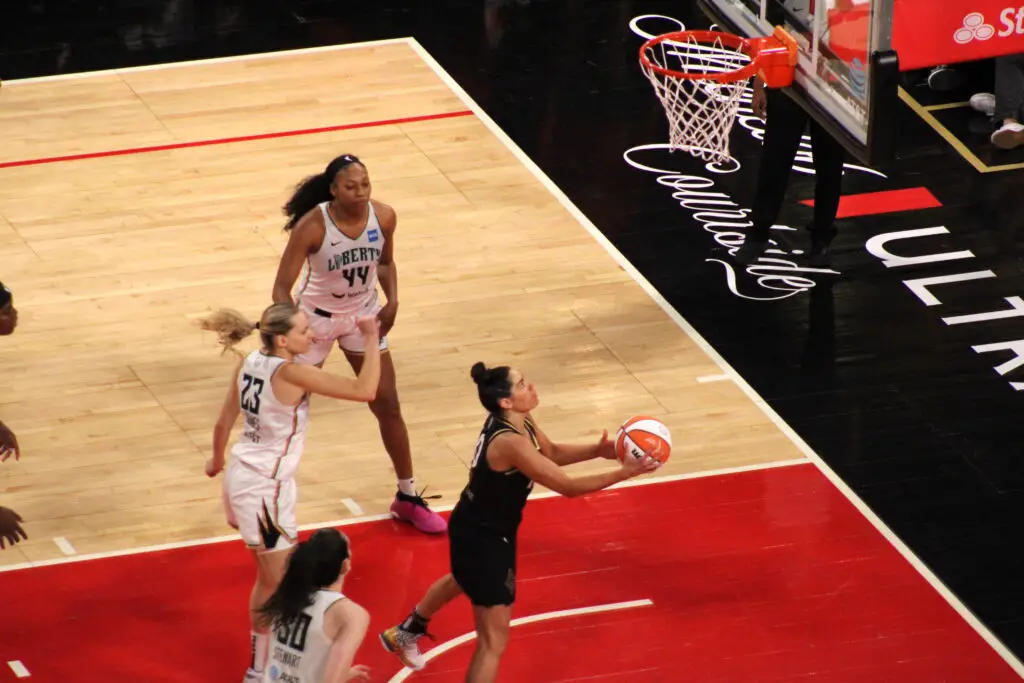 On a day when several stars were in the crowd, including Sheryl Swoopes, LeBron James and Kehlani to name a few, the sixth-year guard out of Washington was most excited to see a Las Vegas minority owner sitting courtside.
"My mom is going to kill me if I say this… I looked at (Tom Brady) and I said, 'It's about F-ing time you showed up!' What I love about him is he was just like, 'You already know,'" Plum recalled. "I'm super excited for his investment in our franchise and understanding what that means for us and the growth. Not just us, but the league and putting eyes on us. 
"I joke around but it's been awesome to have him and I know he cares. He has a daughter and nieces that play women's sports so he understands the investment it takes and it's cool to be a part of."
Chelsea Gray, who celebrated her 31st birthday Sunday, and A'ja Wilson followed closely behind their teammates with 20 and 19 points, respectively.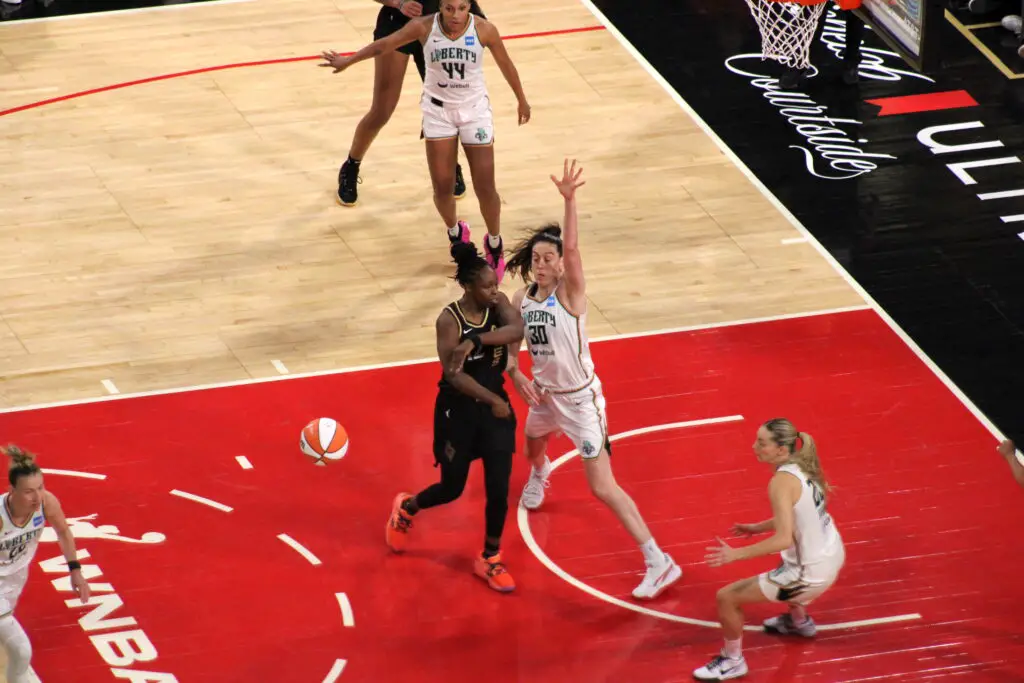 Gray nearly had a double-double as she added nine dimes, six boards and two blocks. Wilson also contributed eight rebounds, three blocks and two assists.
"Game ones are very huge when you're playing in a series. The away team normally comes in and wants to steal it," Wilson said. "For us to kind of weather the storm, go through some adversity, shake the rust off and still get the win, it was really big for us."
2023 MVP Breanna Stewart scored a team-high 21 points for the Liberty on 8-of-19 shots with nine rebounds and two assists. Jonquel Jones recorded a double-double with 16 points and 10 rebounds.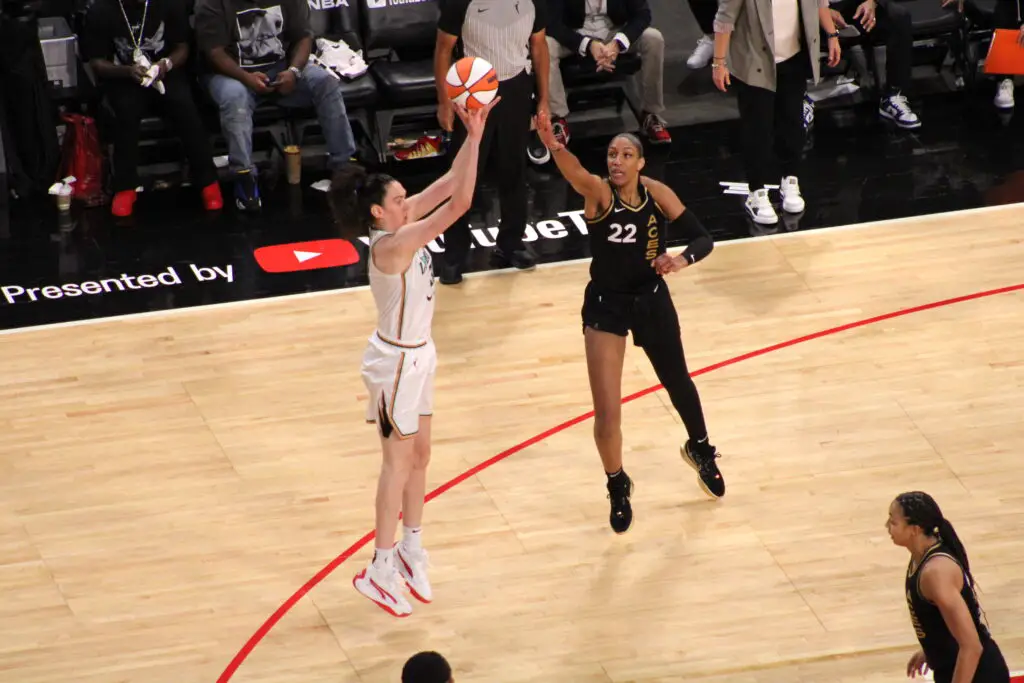 "It's playoff basketball, that's why I don't get too high or too low," said New York head coach Sandy Brondello. "We can obviously learn a lot from this. We know we can play better and that's what we have to remember. We haven't lost two in a row all season long and we're going to know we respond in the right way. I trust these players, we're going to keep competing and fighting."
RELATED: Liberty Pay Homage to New York Native Sue Bird
Both teams tightened their bench to begin the series as the two "super teams" each only had one reserve play for more than 10 minutes. In 28 minutes of action for the Aces, Alysha Clark scored eight points on 3-of-6 field goal attempts. 
"AC could have a big series. They basically have not guarded her and she hadn't shot well," Hammon foreshadowed pregame. "She's shooting well now. I'll be curious to see how they defend her."
Marine Johannès made the most of her time off the bench, scoring all 14 of her points in the first half and totaling nearly 20 minutes.
"Apparently, Johannès really likes to play against us. She hits tough ones. Shooting a one-legged three, I'm a huge fan, other than when she's playing us," Hammon said with a laugh.
Both teams will spend Columbus Day resting rather than holding practice. Game two in Las Vegas will be broadcast on ESPN and is scheduled for Wednesday at 9 p.m. EST/6 p.m. PST.