On April 22, 1996, a 15-year-old Sue Bird was likely jubilant and excited. At long last, a women's professional basketball league was on its way to the United States.
Now in September 2022, Bird is in her 21st and final season in the Women's National Basketball Association. The league is in its 26th year of existence and is getting more popular as the years pass.
Anyone who has ever watched a Seattle Storm game when Sue is in the lineup knows that she's a pretty good hooper — quite great, actually. The greatest point guard in women's basketball history one could argue, given the 41-year-old's lengthy resume.
Bird has carved out a Hall of Fame career for herself in more ways than one. As a high school junior in Queens, New York, she led Christ the King to a state championship. When she was a senior, CK won state and a national championship. Bird earned New York Player of the Year (POTY) honors as well.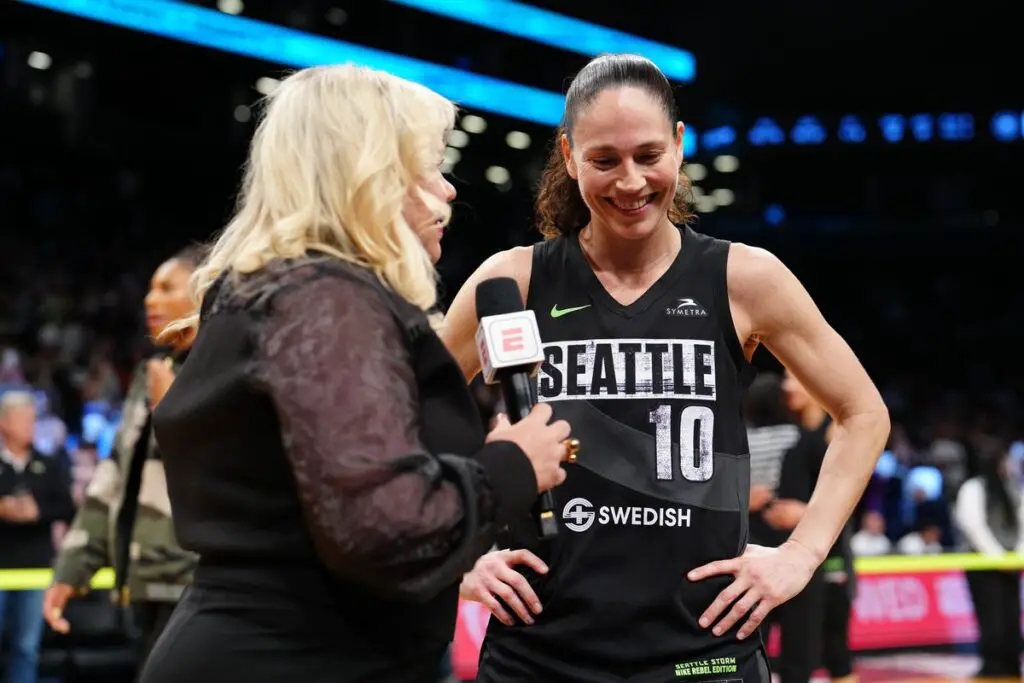 Fast forward to college at UConn, Bird won two more natty's in 2000 and 2002 plus seven total POTY awards in her senior year. When she played internationally in the offseason from 2004-2014, Bird continued to excel overseas. Bird is a five-time EuroLeague and Russian National League champion, respectively.
The winning continued when she donned the red, white and blue. So much so, that Bird and Diana Taurasi are the only basketball players to ever win five gold medals at the Olympics. Add in four more gold medals and a bronze from the FIBA World Championships and she nearly hits double-digits in gold.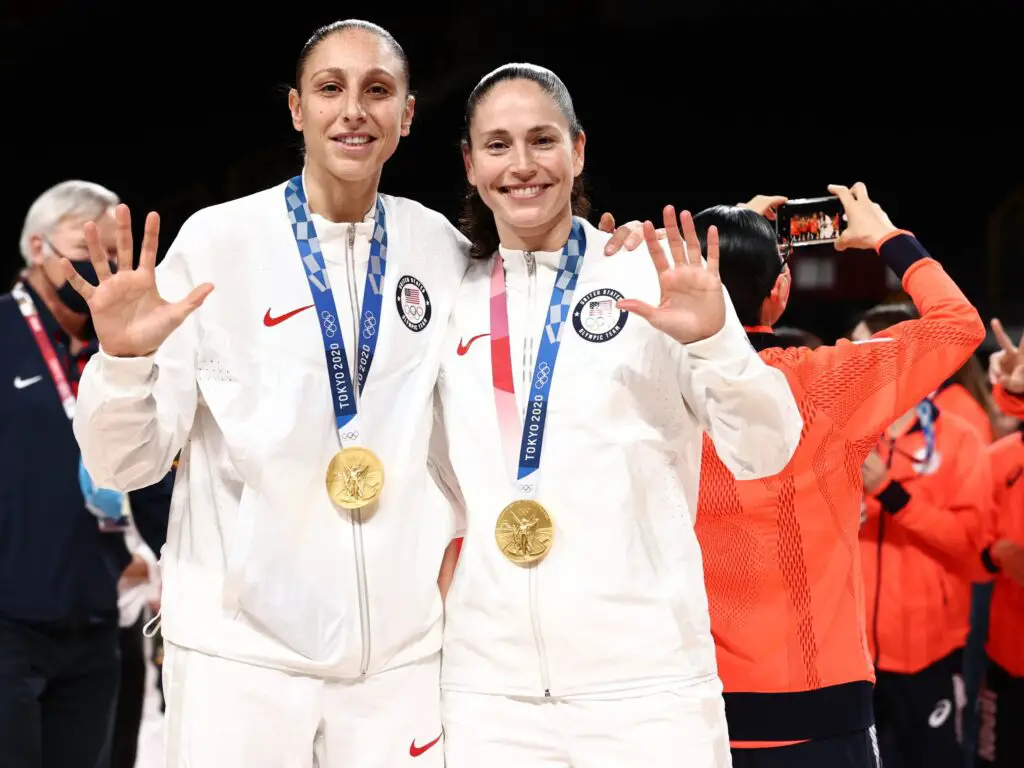 "I love g-o-o-o-ld! The look of it! The tashte of it! The shmell of it! The texture!" Goldmember said in the movie, Austin Powers in Goldmember, which was released the same year that Bird was drafted to the WNBA. Perhaps that movie was a spoiler for what was to come in Sue's future, lots and lots of g-o-o-o-o-o-o-o-o-o-ld!
The Storm selected Bird first overall in the 2002 WNBA Draft. She was sidelined with a knee injury in each of the 2013 and 2019 seasons. In 19 seasons on the court, Sue has racked up several accolades.
Bird is a 13-time WNBA All-Star, eight-time All-WNBA selection, four-time WNBA champion and the league's all-time leader in assists. She was also selected to the W's 10th, 15th, 20th and 25th-anniversary teams.
The WNBA's inaugural game between the New York Liberty and Los Angeles Sparks wasn't played until June 21, 1997, when Bird was 16 years old. Therefore, Sue didn't grow up dreaming of playing for the Liberty. However, if the team had been founded a decade earlier, she likely would have.
Bird formally announced on June 16 that this season would officially be her last in the W. Since then, she has rightfully been showered in admiration by her peers around the league. That includes members of the franchise from Bird's home state.
"She's been great at every level," New York forward Betnijah Laney told HoopSocial about Bird after shootaround on August 6. "She's been an icon for so many. She means so much to the game. All that she's done for her advocacy both on and off the court. She's definitely somebody that I've looked up to and that I've admired just for everything that she does for the game."
RELATED: Shorthanded Mercury Upset Liberty Without Big 3 to Reclaim No. 8 Seed
New York head coach Sandy Brondello played her final season in the WNBA with Bird in 2003.
"I knew right from there what a special player she was," Brondello said on August 6. "I was at the end of my career and she was beginning her career. She had the leadership qualities of a true champion and [was] able to do so much for the team. She's a winner, I think she's proven that. I think she has a lot of respect all over the world. 
"She's leaving behind a pretty cool legacy to be quite honest. I know there [are] even great things to come with her voice now and the social justice that she's working on. I think it's pretty neat. [Sue] is a really great person too."
RELATED: New York Liberty Coach Sandy Brondello Earns First Win Against Mercury Since Leaving Phoenix
Eighteen years after Bird was the first guard picked at the top of the draft, Sabrina Ionescu followed in her footsteps as the sixth.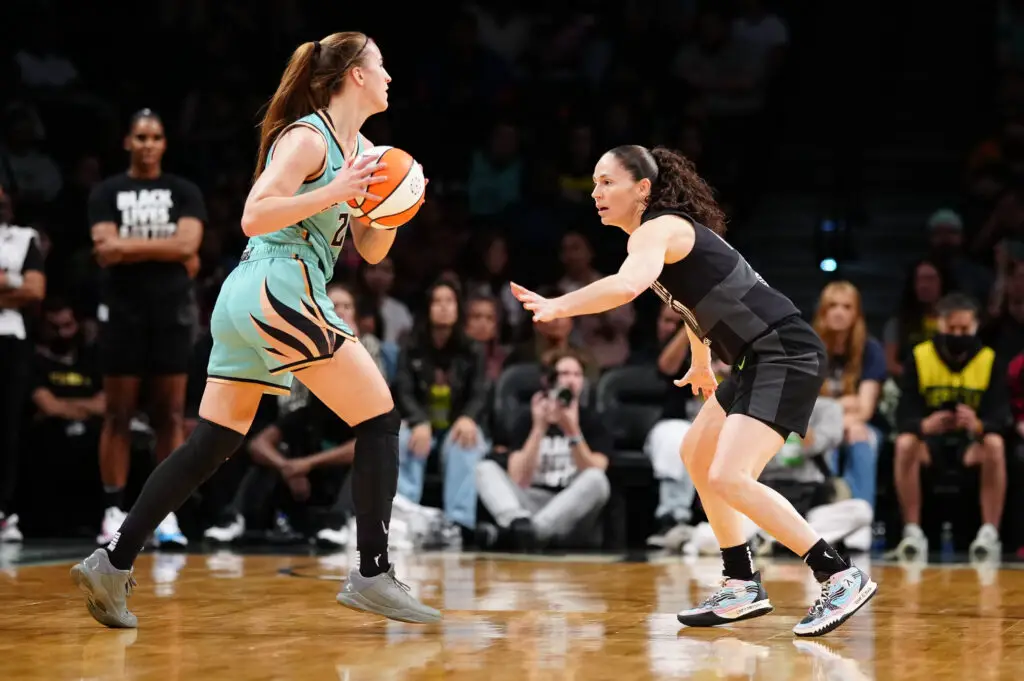 "It's been awesome to see her growth as a leader on and off the court and what she's meant for the sport," Ionescu said on August 6. "She's left it in better hands than when she got into the league. Being able to see how she's transcended our sport and continued to make it better is really inspiring. I hope this last year has been nothing short of amazing for her and she obviously has a lot left to accomplish."
RELATED: New York's Dynamic Duo to Represent Liberty in All-Star Game
Only three years into Ionescu's professional career, the 24-year-old is already sparking debates with her play about who will ultimately be the greatest point guard in WNBA history 24 years from now when the league has its 50th anniversary. One thing that's for certain in the minds of most: In 2022, the answer to that question is Sue Bird.
"To be able to do something and get paid for it that you love to do, that's gotta be everyone's dream," Bird said in a 1998 interview when she was 17 years old. "That's why I think it'd be great if I played in the WNBA."
Seattle is currently knotted at 1-1 in their semifinal series against the Las Vegas Aces with Game 3 on Sunday afternoon. If the Storm were to go on and win the WNBA title this season, Bird would cement herself in history as the first-ever WNBA player with five championship rings.
Regardless of where the journey ends, Bird's hoops career has been absolutely phenomenal. Salute to one of the greatest point guards of all time.