The wild wild West is even wilder than usual this year. Other than the best-in-the-league Phoenix Suns, who are having a franchise record-setting season, no high-seeded team in the conference is without its problems.
The team with the most momentum right now seems to be the Dallas Mavericks, who've had a terrific second half to the season, but they could easily fall back to bad habits come post-season, especially due to the lack of a second go-to guy behind Luka Doncic. The young and inexperienced Grizzlies, the injury-riddled Warriors and Nuggets and the underwhelming Jazz are all good teams, but they all come with question marks.
All of this paints a pretty clear-cut picture: the West playoffs are wide open. All of the aforementioned teams, the considered favorites in their matchups, will be competitive, but none of them is unbeatable.
Therefore, the play-in tournament race is especially interesting this year, since the two teams coming out of it will be given a chance to pull off an upset or two and make a run at the Western Conference Finals. Let's take a closer look at each of them and how much noise they can make in the playoffs.
Out With Something To Prove: the Minnesota Timberwolves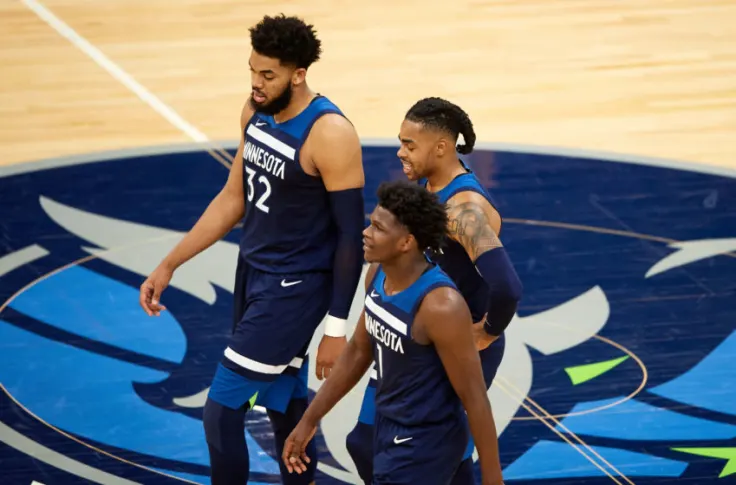 Under Chris Finch, the Timberwolves have had a season of collective improvement. This was apparent last year as well when, despite a 16-25 record with him at the helm, signs of progress could be found if looked for. Especially this season, though, everything in Minnesota seems to have made a leap forwards. Behind Karl-Anthony Towns' career season, the rest of the Wolves are stepping up: D'Angelo Russell not only isn't a defensive liability anymore (he's raised his defensive rating from the horrible 116.8 of last season to an above league average 109.2 ), but he's actually the most important figure in Chris Finch's high-pressure defensive system thanks to his vocality, as well as averaging a career-high 7.0 assists per game. Sophomore Anthony Edwards has raised his efficiency percentages since his ROTY contender-caliber rookie season and was even getting a bit of All-Star buzz in early February. Other than the stars, role players such as Jarred Vanderbilt and Jaden McDaniels are contributing to this young and exciting Minnesota team.
The Timberwolves' beginning to the season was shaky, going 4-9 in their first 13 games, but by the All-Star break they had reached a record slightly above .500, which propelled them into serious contention of a top-6 seed in the second half of the season. Post All-Star break the Timberwolves own the league's 4th best net rating (pre All-Star break they were 14th), thanks to a 10-2 run to finish February and enter March, but lately they've come back down to earth due to a tough stretch of games (all of their games from March 19th to April 2nd were against top-6 teams).
Which brings us to the question at hand: how threatening are the Timberwolves to a higher seeded opponent? In their case, their greatest advantages might prove to work as flaws. Minnesota is a young, athletic team that brings energy and constant pressure on the defensive end but relies a bit too much on its stars on the offensive end. Constantly outhustling and simply wanting to win more than your opponents works wonders in the regular season, but in post-season slower paced, more scheme-driven basketball they might not have answers for what better teams will throw at them. This is only magnified by the fact that this is a generally inexperienced team; it's Chris Finch's first post-season as a head coach and, while KAT and D'Lo have some playoff experience, they haven't played enough winning basketball in their careers to avoid the question marks. Other than them, the only player on the roster with considerable when-it-matters experience is Patrick Beverley. Their only being .500 against winning teams further deepens the concerns. The bottom line is: the Timberwolves will not fall easily to whoever they match up with, but ultimately it's hard to see a scenario where they pull off an upset against a top-2 West team.
Coming From Behind: the Los Angeles Clippers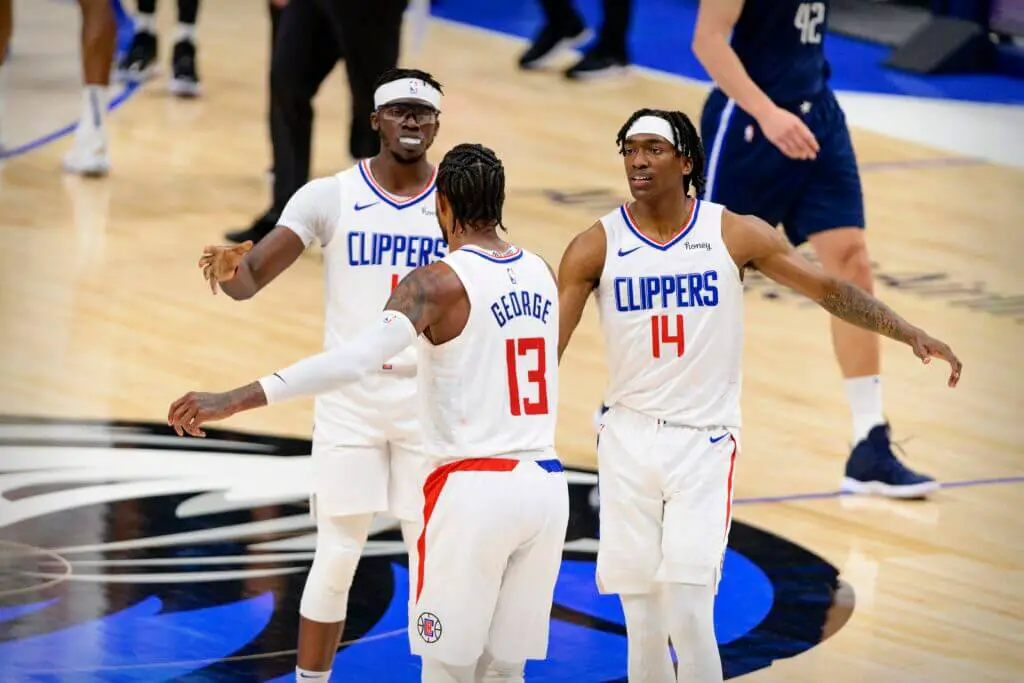 Going into the season, the Clippers already knew that this was going to be a weird year. Coming off a Western Conference Finals trip which cost them Kawhi Leonard, the expectations were both high and low for this team; high because they had just proven themselves with an emphatic series win over the #1 seed Utah Jazz, but also low because Kawhi Leonard was to be out indefinitely, considered to miss most, if not all, of the season. When Paul George went down with a torn ACL on late December, with the team's record at 17-15, the objective for the Clippers was suddenly not to compete for a playoff spot but to secure they weren't going to lose a play-in one.
They came through. Lacking a clear-cut leader and best player on the court, Tyronn Lue utilised his versatile roster through an offense-by-committee, in which you never knew who would go off on any given night. Reggie Jackson, Marcus Morris Sr., Luke Kennard and Terance Mann became the frontmen of this Clippers' resurgence, and when the team acquired Robert Covington and Norman Powell from Portland on the trade deadline the Clippers added even more weapons to their arsenal.
So a culture was set; the Clippers were a bona-fide underdog. They played like it. 13 times the Clippers went on to win a game in which they trailed for double-digit points. In 5 of these games they were down 20 points or more, which is an NBA record. The Clippers have the 12th most minutes in the clutch in the league, which is not too many but can be used as a reliable sample size, so the fact that they also own the 6th best clutch net rating is telling of this team's resilience. If anyone can do it late in the game, it's the Clippers (and, well, the Wizards, which is the only team in the league to top LA in both categories, but that's a story for another day).
The other side of this coin, though, is the Clippers ranking bottom-10 on point differential in the league, with every team below them (except for the Lakers) out of play-in contention. This means that when the Clippers lose, they lose big, so they're an absolute wildcard when down. They will either play hard and make an emphatic comeback or completely fall apart. Another alarming stat about them is that they're 6-16 against West playoff teams this season; they haven't proven they can handle the competition they will be called upon to handle if they want to advance in the post-season.
The profile of this Clippers team is clear: they're a tough, scrappy team with high highs and low lows. Out of this collection of play-in teams, they seem to be the most dangerous for a higher seeded opponent, given their recent experience both in winning playoff games and playing the role of the underdog. They will need their fair share of luck, though; they're still a team missing its best player and they've shown quite a lot of inconsistency over the season. All in all, the Clippers look like the best bet for a first-round upset, although that possibility is far, far from certain.
You Never Know: the New Orleans Pelicans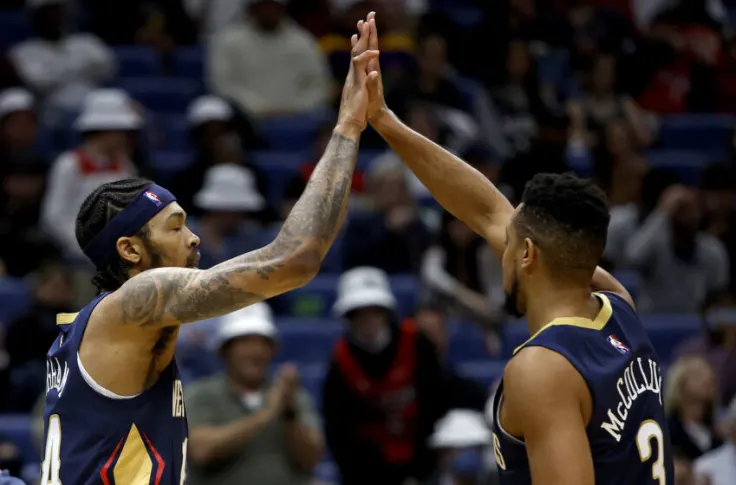 Okay, first things first, let's get the #1 pick, Duke alumnus, All-Star power forward shaped elephant in the room out of the way; no, Zion Williamson still hasn't, and won't have by the time the Pelicans' season is over, played a single minute in the 2021-22 season. The Pelicans have been teasing their fans with false updates on his return throughout the season with an admirable cruelty, but in the end there has been no Zion in sight. Reportedly, he's progressing well on his injury and has been taking part in on-court activities, but at this point it's too late to make any attempt at a return in an NBA game. Does that mean the Pelicans are doomed? Well… yes and no.
I have no problem saying the Pelicans were easily the worst team in the NBA for the first few weeks of the season, and not just record-wise. Their 1-12 start to the season was definitely on par with their eye test results. That team couldn't stop anyone on defense, couldn't make anything happen on offense, looked disjointed and at times uninterested. They also sported the 3rd worst net rating in the league. Sure, they missed Brandon Ingram for half of those games, but it was still a near unforgivable look for an NBA team. If I'm being harsh on the Pelicans here, that's because I had high hopes for them prior to the season. Even without Zion, they're such a fun collection of young guys: Jaxson Hayes, Kira Lewis Jr., Naji Marshall, rookies Trey Murphy and Herb Jones and, of course, Brandon Ingram. Even if they were bad, I was certain they were going to be fun; instead, they were excruciating to watch.
Gradually, that changed. Less minutes for Nickeil Alexander-Walker, more minutes for Herb Jones and more usage for Josh Hart became the name of the game for the Pelicans, who managed to maintain a 50% winning percentage and limped their way into February 8th owning a 21-32 record.
I note February 8th as the turning point of their season because that's the day they acquired C.J. McCollum from the Portland Trail Blazers, in one of the biggest trades of the season. McCollum gave the Pelicans a new offensive aura, considerably raising his points, assists and shooting efficiency numbers since his first half of the season at Portland. Post All-Star break, which, minus a few games, is the period of time McCollum has been on the team, the Pelicans have the 5th best net rating in the league. That is a testament to how important C.J. has been for them, given that prior to the All-Star break their net rating was the league's 20th best. The most important thing he gave the Pelicans, though, was versatility. When Ingram was unavailable, which was a far from uncommon occurrence during the season, New Orleans looked hopeless, whereas now, with C.J., the Pels have someone they can rely on to pick up the slack on scoring and lead the team on-court. More specifically, the Pelicans went 2-12 in the 14 games Ingram missed before the McCollum trade, whereas after it, in the 8 games Ingram missed and McCollum played, they went 3-5. That's still not good, but it's an obvious improvement.
So, bottom line, can the Pelicans pull off an upset? Well, Ingram and McCollum both going off simultaneously and winning games by themselves is definitely inside the realm of possibility, and it's a recipe that provenly works (the Pelicans are 6-1 in games in which both Ingram and McCollum scored 19 or more). McCollum has proven he can be counted on when it matters in the post-season, but Brandon Ingram is generally a pretty inconsistent player, even as an All-Star, plus we still haven't met the playoff version of him. Even if we assume both stars will perform, though, it will probably take more than that. This post-February-8th edition of the Pelicans has managed just two wins against West playoff teams in 7 tries. One of them was a 117-102 win over the Suns, who will be their opponents if they do get in the playoffs, but it's hard to see a scenario where they are able to win 1 game against them on April, much less 4. In all honesty, the Pelicans right now should probably be focused on the second play-in game, in which they will face either the Timberwolves or the Clippers; both, as stated, solid teams which will not go down easily. If the Pelicans manage to get into the playoffs, then they're hoping for a miracle; but stranger things have happened.
Eh, Either Way Is Fine: the San Antonio Spurs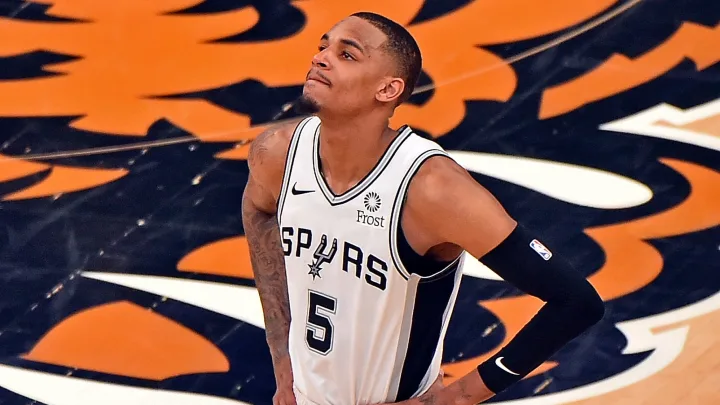 On December I described the Spurs as a fun, albeit bad, team. Now they're less fun… but they're better!
Most of us expected the Spurs to tank this season. Sure, they still had notorious tank-avoidant Gregg Popovich as head coach, but they'd gotten rid of all their veterans and filled the roster with young, mostly underdeveloped guys, as well as drafting a still pretty raw prospect in Josh Primo. This time they had to be tanking, right?
Wrong. From the get-go, the Spurs were never about losing games. They just did at first, due to their roster. A bad, 18-point loss from Atlanta on November 25th meant they would start their season with a 4-13 record. The Spurs looked like a bona-fide tanking team at the time, and expectations were non-existent.
Then, Dejounte Murray started playing like an All-Star, leading the Spurs to a resurgence. Murray is almost averaging a triple double and is having the 4th best PER season among point guards in the whole league, with a better PER than players like Steph Curry and Chris Paul. He is leading the Spurs in points, assists and steals and is second in rebounds only behind big man Jakob Poeltl. Up until March he had missed 8 games; the Spurs lost 7 of them. When Murray scores big the Spurs win, and when he has a bad game they lose. Few players in the whole league are this crucial to their team's success; on that front he can be compared only to the likes of Trae Young, Nikola Jokic and Kevin Durant.
I went out of my way to emphasize Murray's significance to this Spurs team, and the reason why is as follows: he may miss the play-in tournament. He will probably miss the final regular season games of the team due to a non-COVID illness and, as he himself stated, he is hoping to be ready for the first play-in game. This doesn't look good, though. Even if he manages to come back in time for their matchup with the Pelicans, which definitely doesn't look certain right now, will he be physically ready to perform to the most of his ability, meaning to carry the Spurs to a win? That is the question that will decide the Spurs' presence or not in this post-season.
All of this doesn't mean the Spurs are completely lost without Murray, though. They still have competent, feisty players such as Poeltl, Keldon Johnson, Lonnie Walker IV and Devin Vassell. This is not a bad team; it's just not a good enough team. They are mostly making the play-in tournament thanks to the Lakers' incompetence and, honestly, they should be more than proud to do so. This is a team that, prior to the season, was projected bottom-3 in the West by most. Just the fact that they will be still playing basketball after the regular season ends, even if it's just one game, should be enough for Spurs fan to be satisfied. If you feel what I'm saying is defeatist; I really don't think so. The Spurs are a rebuilding team. This season they competed, gained an All-Star and will probably keep their lottery pick; that's a happy medium.
So, all in all, no, the Spurs probably won't be making the playoffs, much less upsetting the Suns. If Dejounte returns healthy, they'll have a puncher's chance at defeating the Pelicans and taking their chances against a much better Timberwolves or Clippers team. Without Murray, though, it's hard to envision a scenario where they don't lose from the Pelicans. It will be really, really fun if they actually get in the playoffs and compete there, but… they most likely won't.
And, again, that's completely okay.