The Finals are here, and they will be glorious.
In one corner, we have the eighth-seeded, scrappy try-hards in Miami trying to make history. In the other, we have an often-maligned two-time MVP seeking to climb the mountain for the first time (good thing he's used to the altitude!).
Although the team details are wildly different, the broad strokes have some similarities. Both teams have had the same core pieces for several years now. Nobody will ever accuse either squad of being a microwavable super-team, as neither team has a first-team All-NBA player or multiple All-Stars.
But forget sums; these parts make products.
On paper, Denver is the overwhelming favorite, but don't tell Miami: the Heat clearly aren't big readers, winning three straight series as the betting underdog. So here are three questions whose answers will determine the 2023 NBA champion.
Related: 2023 NBA Finals Preview
Can the Heat slow Jamal Murray or Nikola Jokic?
Forget Jokic for a second (but just a second; we'll get there). How can the Heat dim Jamal Murray's light?
Here's a fun game. Guess the players based on their per-36-minutes stats:
Player A: 26.0 p, 6.4 r, 5.2 a, 1.9 s on 48/36/81 percent shooting splits
Player B: 25.5 p, 5.0 r, 5.6 a, 1.5 s on 48/40/93 percent shooting splits
Player A is Playoff Jimmy Butler. Player B is Playoff Jamal Murray.
If Murray plays Butler to a draw, the Heat have no chance of surviving — only one of those players has the two-time MVP backing them up, and it ain't Himmy Buckets.
We don't have much to go on when trying to project the Heat's defense against Murray. Jamal has only played against the Heat three times in the last four years. His last game was in December, when he was still shaking off the rust from missing the prior year with a torn ACL.
Although many Heat players will rotate onto Jamal, I'd expect feisty Gabe Vincent to get the first crack. Murray, frankly, is too big and strong for Vincent, but Vincent is the best non-Jimmy on-ball defender the Heat have, and he'll try his best to stay up on Murray to disrupt his handle and shooting ability.
If Murray really gets rolling, the Heat will undoubtedly try Butler, Caleb Martin, and perhaps even Haywood Highsmith (who might just straight-up guard Jokic, too) at times. All three will also make switching the Jokic-Murray pick-and-roll (slightly) more palatable.
But Murray has been incredibly effective scoring from everywhere — just ask the Lakers, who watched Murray average nearly 33 points per game in Denver's harder-than-it-looked sweep. Miami will need to figure out how to help Vincent — Denver only has one starter who isn't a threat from outside, Aaron Gordon, and he's still an elite cutter and finisher at the rim. The Heat love to pack the paint, but the Nuggets have few weak links.
Despite what the media seems to believe, the Heat will definitely try their famous zone, which flummoxed the Celtics. But while it could stymie Murray, a zone is vulnerable to great passing. Nikola Jokic is one of the greatest passers ever to live.
Jokic presents a problem. Bam Adebayo might be the best defender in the league, but he looks like a Lilliputian fighting with Gulliver when he tries to guard Jokic. The two-time MVP has shot well against Bam in the past without ever looking particularly troubled: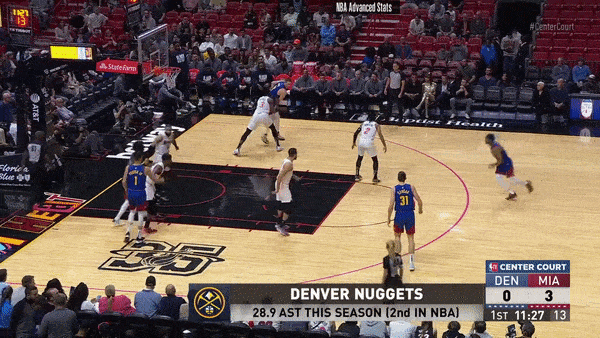 The Lakers found success putting power forwards Rui Hachimura and LeBron James on Jokic and letting center Anthony Davis roam as a weakside helper. The Heat don't have that kind of personnel, though. While Bam can bother Jokic when he tries to float around the perimeter, he's not at his best lurking in the paint to swat unwary shots. The Heat would be putting Kevin Love, Caleb Martin, or Haywood Highsmith on Jokic, none of whom possess the athleticism and size to do what Hachimura and James did in the Western Conference Finals. Is there a chance the Heat roll out their biggest player in seldom-used seven-footer Omer Yurtseven? It wouldn't shock me; the Heat are a tiny team, and Spo may want to see what sizing up looks like against the Nuggets' massive frontcourt.
The Heat will need to junk things up. Jokic is a supercomputer the size of an air traffic control tower, but Spoelstra and the Heat run as many unusual defenses as any team in the league. We'll see Jokic attacked in every way imaginable — doubles on the catch, fronting the post, aggressive digs and fake digs, strange matchups to slow and confuse Jokic. They will try zone at some point; the key will be to only show it for one or two possessions at a time.
None of the Heat's options are particularly appealing, so their only option is to throw the kitchen sink at Jokic every game. They must keep the big man guessing.
Can Miami's offensive versatility confuse Denver?
Miami and Denver both run two of the more varied offensive systems in the league, but they do it in two totally different ways. Jokic is the most offensively versatile player perhaps in league history: he can make a case as the best scorer, rebounder, screener, and passer in the league today. His ability to do everything means that everything runs through him.
The Heat, meanwhile, go about things differently. Nearly all of their players are empowered to attack the defense however they see fit: Adebayo running pick-and-rolls, Max Strus posting up, Caleb Martin taking off-the-bounce threes, and even (as of the last few weeks) Duncan Robinson attacking the hoop. Guards Vincent and Kyle Lowry have both aggressively sought their shot this postseason, too. While Jimmy Butler is the offense's focal point, he'll go long stretches without dominating possession in a way few superstars do.
Because of this, the Heat don't offer a safe spot for weak defenders to hide. While neither Phoenix nor Los Angeles was successful in punishing the quick-handed but slow-footed Joker in the pick-and-roll, Erik Spoelstra is going to go at him hard (and Murray, too). Miami makes up for a lack of high-quality ballhandlers with quick decision-making; Heat players don't dance with the ball on the perimeter. "Mechanical" is often a pejorative term, but their offense is mechanical in the beautiful, complicated, how-did-anyone-think-of-this kind of way. Players never stop moving, and they know exactly where to be at all times to let the offense breathe.
The Nuggets have typically had Jokic play at the level of the screen this season, meaning he comes up parallel-ish with the screener until the ballhandler's man can recover. But against the Heat, Jokic has often been in a shallow drop coverage, meaning he sits back a few feet in the paint. As a result, there will be a lot of Bam Adebayo floaters and short jumpers in this series. I expect him to significantly increase his shot attempts as he feasts on the short roll: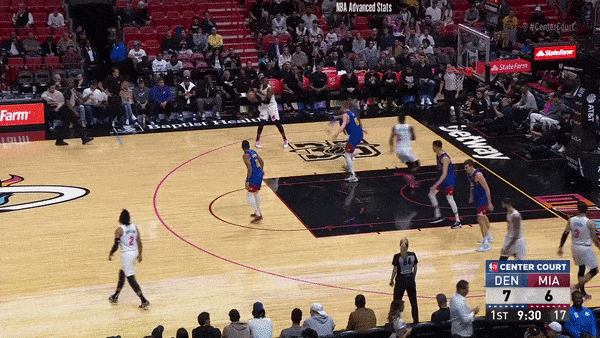 One more thing the Heat must do: use Bam as an off-ball screener. Jokic is reluctant to venture too high when playing off-ball defense, and the Heat used that to some success in the past. Notice how deep Jokic stays when Bam sets a pin-down screen for Max Strus, who misses a great look: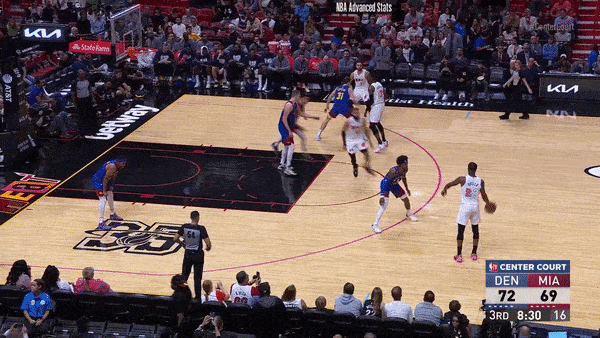 An ugly Knicks series aside, Miami has generally hit those shots in these playoffs. They'll need to do so again to keep up with Denver.
What will Denver get from Aaron Gordon?
Gordon is Denver's third-best player and occupies a unique role for the Nuggets. He's the only starter who isn't a real threat from deep, but he presents a unique matchup problem for the Heat by virtue of being giant, athletic, and violently dunky.
·
December 21, 2022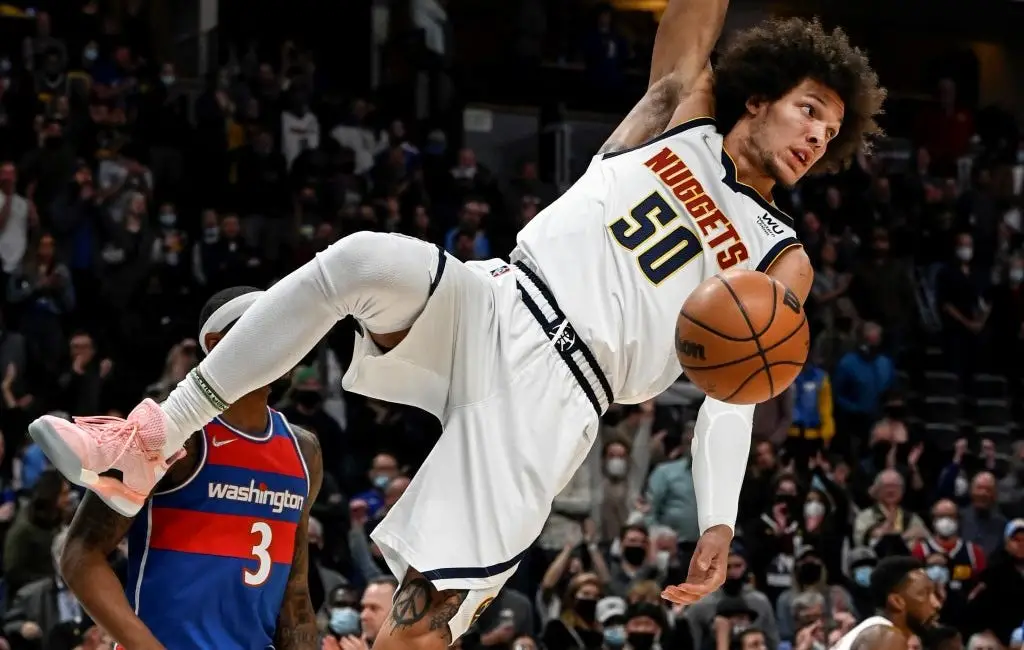 Stat of the Week: 28.9% Aaron Gordon is quietly having a monster season for the West-leading Nuggets. He's their best wing defender, and he's scoring 17.3 points per game. That is short his career-high by just 0.3 points despite sometimes being the fourth option on offense.

Gordon's entire offensive philosophy is based on positioning. He loves to slice to the rim behind inattentive defenders' backs for an alley-oop or sprint to the rim in transition for a quick seal-and-layup. He aggressively hunts smaller players in the post, like when he obliterates Tyler Herro here: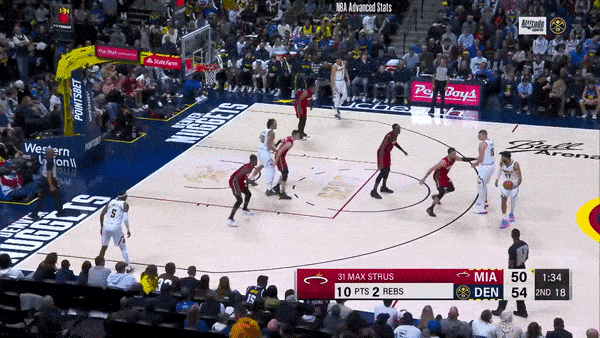 But contrary to popular opinion, there's a lot more nuance to Gordon's rim game than just waiting like a gargoyle on the baseline for a Jokic pass. In the halfcourt, he's a master at oddball cuts that morph into post-ups and seals for easy buckets: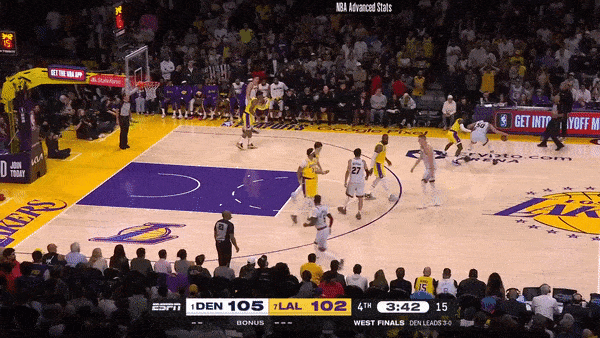 Few players make those cuts, but few have a passer like Jokic able to reward them, either.
But the reliance upon inside points can make Gordon vulnerable. When the Lakers stationed Anthony Davis on Gordon and told him to play free safety, largely ignoring AG (a terrible corner-three shooter) on the perimeter, the Nuggets initially struggled to take advantage. Gordon looked tentative and averaged fewer than 10 points per game in the first three contests, far below his season average of 16.3. Davis had the length and skill to give Gordon plenty of space but still recover in time to threaten Gordon's attempts at the rim. AG was even benched down the stretch in Game 3 as Denver sought to provide more spacing around Jokic and Murray.
That all changed in Game 4, though, as Gordon came out firing from everywhere. He consciously decided to turn himself back into a weapon, punishing the Lakers for their inattention to the tune of 22 points (including a surprising 3-for-5 from deep).
The Heat don't have a defender like AD, who can roam off Gordon while still deterring him down low. In fact, the Heat's only defenders robust enough to consistently contain Gordon are Bam (who will have his hands full with Jokic) and, sometimes, Butler. But while Miami can't physically match up with Gordon, their defenders are some of the best in the league at not making mistakes, and they can make Gordon work. They'll be prepared for what Gordon wants to do and force him to earn it the hard way.
Miami will selectively double him in the post: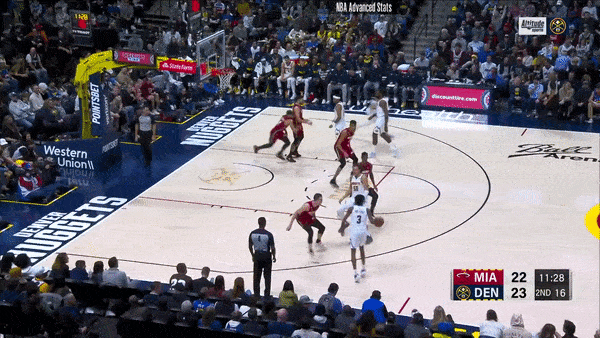 Miami's wings also know the key is to force Gordon to catch further from the hoop. He's not quite as effective if he needs to make several plays with the ball: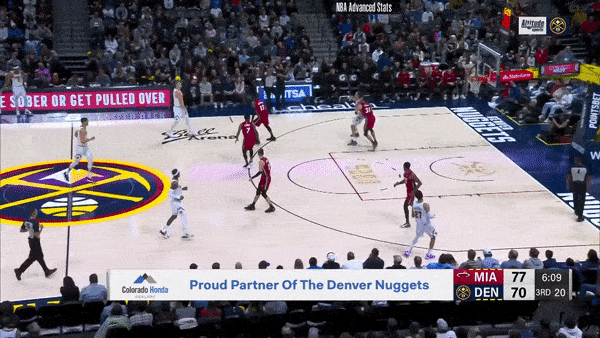 The Heat don't have much hope of stopping Jokic in this series, and that's not a badge of dishonor — he's an MVP. But to have a chance, Miami needs to contain Jamal Murray and Aaron Gordon while continuing the tactical offensive clinic they've put on during the playoffs.
Denver is a firm favorite, but Miami has surprised opponents for weeks now. We're either going to see Jokic take his place atop the basketball world as the undisputed best player in the league, or an eight-seed become an NBA champion for the first time in history.
Buckle up; this will be fun.
If you enjoyed this article, please subscribe to basketballpoetry.com to have more delivered directly to your mailbox every Tuesday and Friday (ish)! Follow me on Twitter @bballispoetry.