29-14 to start the regular season, with 19 of those victories coming with teams .500 or better. Blessed with a rising superstar and potential first-team All-NBA Player, one of the deepest rosters in basketball and a unique style of play, the Memphis Grizzlies are contenders to win the NBA Finals. 
People are slow to come around to the idea of a new team in the mix to win an NBA championship. They've typically relied on teams to prove how great they can be; even Giannis Antetokounmpo had to prove himself with a title. Memphis will have to confirm the doubters, but they have the pieces to succeed in the regular season and the postseason. 
The Roster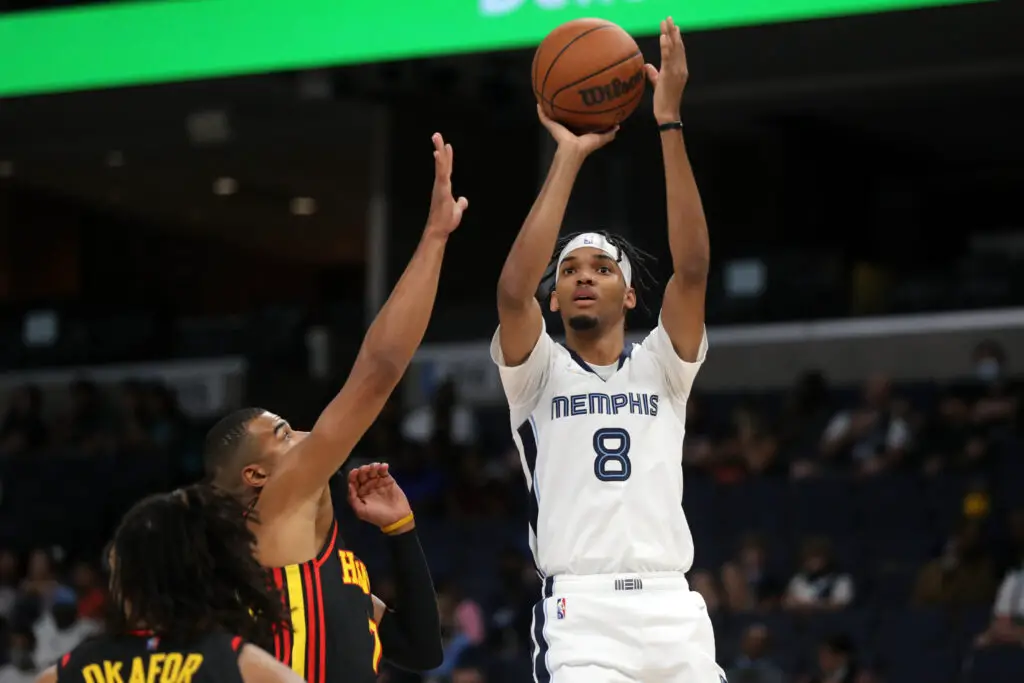 Zach Kleiman and the Memphis front office have done a terrific job identifying and acquiring talent. Arguably, the Grizzlies have 13 guys they can confidently put into their rotation. While that isn't always the best thing for the postseason, it's great during the COVID-19 pandemic. 
Memphis has lost top players Ja Morant and Dillon Brooks at different moments this season and hasn't missed a beat. It comes down to the young players stepping up, and Memphis' most recent draft picks have done just that. It's ultimately up to head coach Taylor Jenkins to find the best playoff rotation.
In just his second season, Desmond Bane has been talked about for Most Improved Player. While that seems surprising, Bane's rise into legitimate third option on offense has been vital. He was known as one of the best 3-point shooters to enter the draft, but now he is so much more. 
Bane is shooting off the dribble much more this season and doing a better job of creating opportunities for himself. He's learned how to get to the rim more without elite quickness and even developed a step-back move to open up his elite jump shot. 
It's also led to more decision-making for Bane and he's up to 2.5 assists per game. It's not a huge number, but it's allowed Morant to work more off-ball and cut. He hasn't done it a lot, but Morant gets 1.77 points per possession on cuts this season, the third-best in the NBA. When Morant cuts, Bane has fed him for easy dunks.
Along with Bane, rookie Ziaire Williams has stepped up his game after a slow start to his NBA career. One of the best high school prospects in the country, Williams flew under the radar and was controversially selected 10th overall. 
After a bad start and falling out of the rotation, Williams has reached double-digit points in three of his last five games. He's at 11.4 points per game on 52 percent shooting and 45 percent from beyond the arc. 
His best game was against the Golden State Warriors, arguably the biggest competitor in the Western Conference. Williams had 17 points with four triples and was even guarding Stephen Curry on possessions during just his third NBA star.
In recent years Memphis has drafted exceptionally well, but it starts with getting a potential superstar with the No. 2 overall pick. With the length and athleticism to defend at a high level, hit shots and get to the basket, Williams panning out would allow the Grizzlies to get even richer. They're deep across the roster and have several wings that can play significant minutes. 
Ja Morant making the leap
Missing out on the LeBron James sweepstakes in 2003 and the Luka Doncic sweepstakes in 2018, the Grizzlies didn't have high expectations in the 2019 draft. While they were happy to jump up to the second pick, it still felt like a team that missed another generational player in Zion Williamson. 
Since then, it's fair to say that Memphis getting the second pick was the biggest blessing in recent NBA memory. While Williamson is working through another rehab stint in his young NBA career (putting it mildly), Morant has elevated himself into one of the best point guards in the league. 
Morant is currently at a career-high in points, rebounds, shooting percentage, three-point percentage, true shooting percentage and just about every advanced offensive and defensive category. His athleticism was well known, but he's raised his game to another level with his 3-point shooting. It opens up his driving lanes and if he can continue to shoot at a 37 percent clip from deep, he'll quickly become one of the most guardable basketball players alive. 
What the numbers say
Historically, to win an NBA title, a team needs to be a top 10 offensive and defensive team and have one of the best players in the league. The Grizzlies are sixth in offensive and seventh in defensive ratings, plus they are third in points per game. 
The one weakness that people will question for the Grizzlies is shooting. Despite developments in their lineup, Memphis is still mediocre in terms of shooting percentage and 3-point shooting percentage. So why do their offensive numbers say otherwise? It has to do with their style of play. 
While it's not entirely 'Grit and Grind,' Memphis plays a style that might be kind of the modern version of it. They haven't been the most efficient shooting team, but they lead the league in rebounds and steals this season by a significant margin. The Steven Adams trade was viewed as questionable at the time, but he's added to the teams rebounding success.
Giving the ball away is a death wish and makes them capable of upsetting their most significant competitors in the West. Even more importantly, it makes Memphis a perfect matchup for a team like Golden State, who is second in the NBA in turnovers. The Grizzlies are first in fast-break points and second-chance points while also ranking fourth in points off turnovers. 
The key, of course, will be Morant hitting another level in the postseason. He's one of the best players in the league already. He'll have to enter the best conversation. Magic Johnson did it in the 1980 playoffs as a rookie, LeBron James did it famously in 2007 and Kobe Bryant did it in 2000 (he had a lousy final but was the best player the first two rounds). 
If Morant reaches his potential and hits the level of the all-time greats, the Memphis Grizzlies can shock the world and win the NBA championship.