If you're aiming to transform your basketball shooting skills and take your performance to the next level, look no further than the SiQ Smart Basketball & App. This comprehensive review will dive into the features and benefits of this innovative smart basketball training equipment, designed to help players of all levels improve their shooting accuracy and technique.
SiQ Smart Basketball Review – The Ultimate Shooting Improvement Tool
Are you ready to revolutionize your shooting practice? The SiQ Smart Basketball is more than just a basketball; it's your personal shooting improvement tool. This smart basketball has the remarkable ability to automatically identify makes, misses, and swishes during your practice sessions. Say goodbye to the guesswork, and say hello to real-time feedback that guides you towards better performance.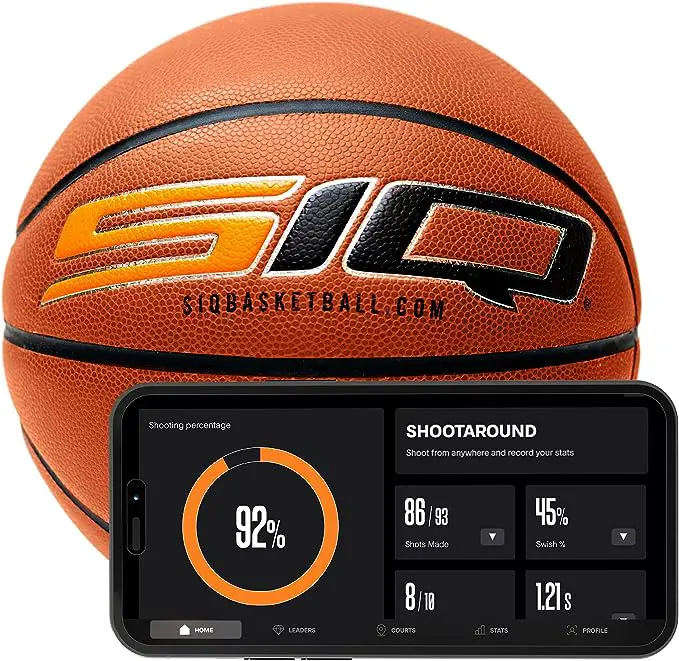 Unveiling the Smart Metrics – Your Path to Shooting Excellence
The SiQ Smart Basketball goes beyond traditional basketballs by providing an array of smart metrics that empower you to fine-tune your shooting technique. From tracking shot distance and creating heat maps to monitoring shot consistency and assessing different shot situations like layups, relaxed shots, dribble shots, and off-the-pass shots, this innovative equipment offers a holistic analysis of your performance.
Moreover, the SiQ Smart Basketball allows you to keep an eye on crucial factors like quickness, release angle, spin rate, tilt angle of spin axis, and even shooter identification. These insights act as stepping stones on your journey to shooting excellence, helping you identify areas for improvement and capitalize on your strengths.
Tailored to Your Playing Style – Choose Your Fit
The SiQ Smart Basketball isn't a one-size-fits-all solution. It's tailored to accommodate your playing style and preferences. You can choose from two game ball sizes: the standard NBA, College, & International ball size 7 (29.5") or the WNBA, High School, & Youth size 6 (28.5"). No matter which size resonates with you, the SiQ Smart Basketball seamlessly connects to the SiQ App, available on both Android and iPhones.
Your Virtual Coach – Expert Guidance at Your Fingertips
Imagine having access to professional tips and tricks right at your fingertips. With the SiQ App, your virtual coach is ready to provide you with personalized guidance. Whether you're a seasoned player seeking to refine your technique or a beginner aiming to build a solid foundation, this virtual coaching experience is an invaluable resource.
Multi-Ball Tracking for Multi-Player Fun
The SiQ Smart Basketball isn't limited to solo practice; it's equipped for multi-player engagement. Enhance your training sessions by challenging friends and family to improve their shooting skills. The multi-ball tracking feature adds an element of friendly competition, making practice sessions both enjoyable and motivating.
Immediate Feedback for Immediate Improvement
With every shot, the SiQ Smart Basketball provides immediate auditory feedback. When you make a shot, you're greeted with a satisfying "cha-ching" sound, and if you miss, you'll hear a "missed" sound. This instant feedback loop reinforces positive outcomes and guides you in making real-time adjustments to your shooting technique.
Customer Insights – Real-Life Experiences
One SiQ Smart Basketball user shared their journey of improvement. They reminisced about their past practice routines and highlighted the transformative impact of using the smart basketball. While acknowledging occasional instances where shots weren't counted, they emphasized the significant long-term potential for improvement that the SiQ Smart Basketball offers.
Frequently Asked Questions (FAQ) – SiQ Smart Basketball
Q: What exactly is the SiQ Smart Basketball?
A: The SiQ Smart Basketball is a cutting-edge basketball training equipment designed to enhance your shooting skills. It goes beyond a traditional basketball by using advanced technology to automatically identify your shot outcomes (makes, misses, swishes) and provide comprehensive insights into your shooting technique. It's like having a personal shooting coach on the court with you!
Q: How does the SiQ Smart Basketball help improve my shooting?
A: The SiQ Smart Basketball offers a range of features to boost your shooting performance. It tracks various metrics such as shot distance, shot consistency, heat maps, and shot situations (layups, relaxed shots, dribble shots, off-the-pass shots). It even monitors aspects like quickness, release angle, spin rate, and more. By providing real-time feedback and actionable insights, the SiQ Smart Basketball helps you identify areas for improvement and refine your shooting mechanics.
Q: Is the SiQ Smart Basketball suitable for players of all levels?
A: Absolutely! The SiQ Smart Basketball caters to players of different skill levels. Whether you're a beginner looking to establish a solid shooting foundation or an experienced player aiming to fine-tune your technique, the SiQ Smart Basketball is designed to assist you. The virtual coaching through the SiQ App provides personalized guidance, making it valuable for players at any stage of their basketball journey.
---
The Verdict
The SiQ Smart Basketball & App is a game-changer for players seeking to elevate their shooting game. With its groundbreaking features, personalized coaching through the app, and compatibility with different ball sizes, this smart basketball training equipment is a must-have for players of all levels. Elevate your shooting skills with SiQ and witness remarkable improvements in your performance.
Precise Shot Analysis: Accurate tracking for focused shooting improvement.
Virtual Coaching: Personalized guidance through the SiQ App.
Multi-Ball Engagement: Competitive practice with friends and family.
App Dependency: Relies on the SiQ App for full functionality.
Initial Learning Curve: It takes time to understand all features.
Disclaimer: This post contains Amazon associate affiliate links, and HoopSocial may earn commissions.