In her fifth year in the WNBA, Los Angeles Sparks power forward Nneka Ogwumike achieved a hat trick.
Ogwumike won the regular season MVP, followed it up by sinking the go-ahead put-back basket in the final seconds of the 2016 WNBA Finals and won her team a championship. Now here she is five years later in her 10th season in the W, building a strong case for her second MVP nod.
"I'm just grateful to be here knowing where I was last year," Ogwumike said. "I just feel so much better and I'm glad that I dedicated my time to myself in 2022."
In the final four minutes of the Sparks' 84-74 victory over the New York Liberty on July 3, Ogwumike stepped up to the free-throw line twice and received MVP chants from the lively crowd in attendance each time. 
Ogwumike knocked down all four attempts to complete her game-high 22 points on a very efficient 9-of-13 from the field and 4-of-4 from the charity stripe. The Stanford alumna added six rebounds, two steals and a block with zero turnovers.
Following the win against the Liberty, Nneka's sister, teammate and fellow power forward, Chiney Ogwumike, took the podium. Chiney was asked by ESPN's Mechelle Voepel about how this season compares to 2016 when Nneka won MVP.
"That's the level that she brings every day whether it's practice or the game," Chiney said. "As someone that has a front-row seat to every aspect of her life, I don't think people fully understand how difficult the last three years have been for her. Not only just the responsibility as a black woman leading the 144 but also trying to lead the franchise through this transition. That's a lot of weight on her shoulders and her favorite word is grace and I think she does it really gracefully.
"My wish as a sister was for her just to be able to play basketball this year. Not feel like she has to be everything to everyone. I think based on everything stabilizing, she's been able to do that. When that happens, look what happens, you know? I think that's just an example of the position women, and especially women of color, are in to be superheroes. I'm just really proud of her so far this season because it seems like she can just wake up and hoop more so than ever before. That's exactly what happens when she's able to have that freedom."
RELATED: New York's Dynamic Duo to Represent Liberty in All-Star Game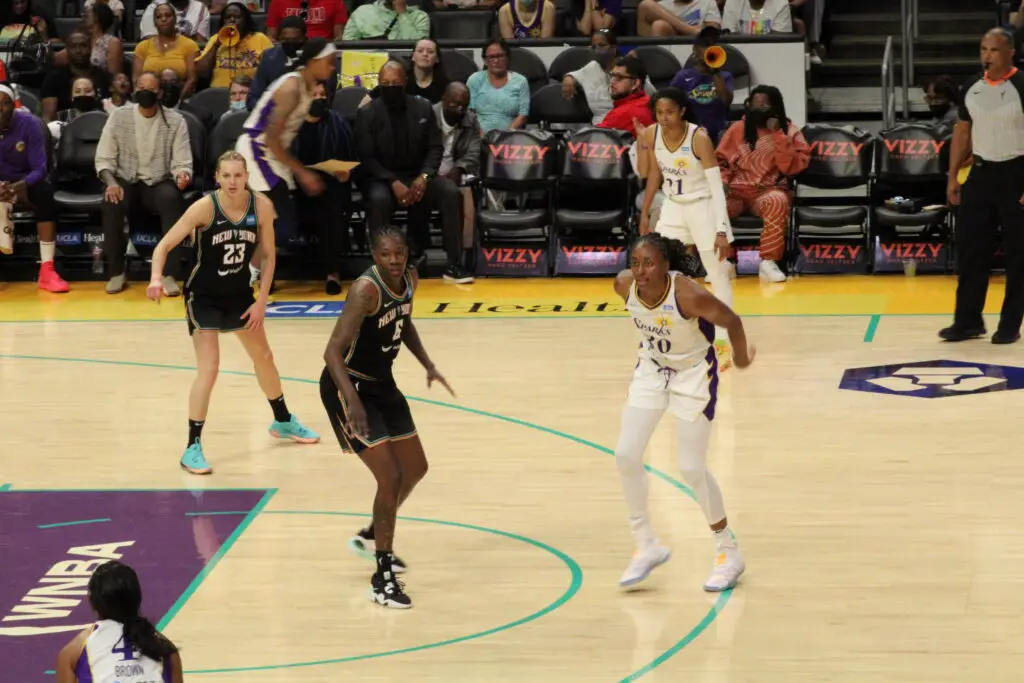 On June 7, Derek Fisher was relieved of his duties as head coach and general manager of the Sparks following a 5-7 start to the season. Fred Williams was elevated from assistant to interim head coach. Williams has been a coach in the W for 24 years with three separate head coaching stints. 
Williams came to L.A. in 2019 to be an assistant on Fisher's staff. Before that, he was the head coach in Atlanta from 2012-13 and Tulsa/Dallas from 2014-18 while Nneka found her footing in the league as the No. 1 overall pick in 2012.
"From my days coaching against her and going against her, you always had to have practices [about her] because Nneka does a fine job of scoring from inside, powering up shots and rebounding," Williams said. "She's really advanced her game dribbling the basketball. She'll take three or four dribbles to the basket more than she did in the past. We're just trying to help her develop more as an outside shooter versus just driving to the basket. She has really done a great job this year."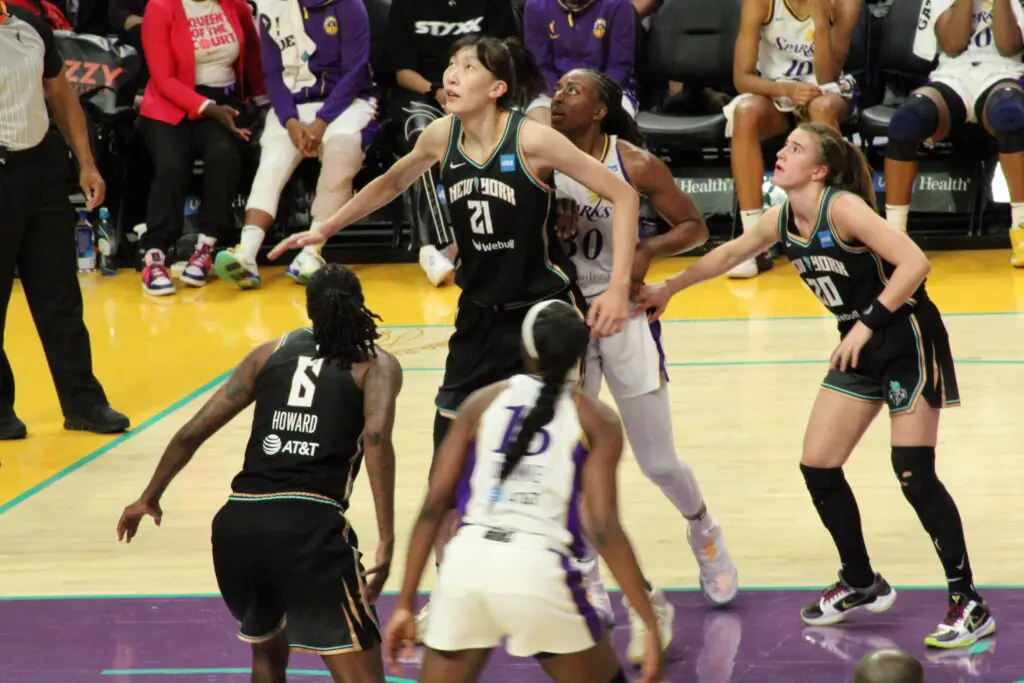 The MVP chants from Sunday for Nneka had an encore performance on the Fourth of July during a 78-75 win versus the Phoenix Mercury on ESPN. Williams agreed with the crowd.
"She should be in that conversation," he said. "It's still early in the season. She's putting up the numbers, all-star numbers. It all depends on how far you can go and take the team. We're all in this together so we want to see her do well and it's a great chant to have in your home court building."
Ogwumike's numbers through the first half of the season are not only all-star numbers, they're worthy of MVP consideration. 
Through 22 games, she is averaging 18.3 points per game while converting her shots at a 57% clip and grabbing 7.1 rebounds per game. Ogwumike's stats so far this season are only surpassed by her remarkable 2016 MVP season when she averaged 19.7 PPG on 66.5% from the field with 9.1 RPG.
Nneka appeared in her seventh all-star game on Sunday. Despite it being an exhibition game, she didn't let her efficiency slip at all. 
Other than Connecticut power forward Alyssa Thomas who was 2-of-2 from the field, Ogwumike was tied for the highest field goal percentage among the all-stars with game MVP, Las Vegas point guard Kelsey Plum, and Chicago PG Courtney Vandersloot. Nneka scored all 12 of her points in the third quarter on 6-of-9 (66.6%) from the field with one rebound.
"It's a blessing, it's really a blessing," Ogwumike said. "I always say this; the individual accolades don't come because you did it by yourself and I owe it to my team, I owe it to the organization."
According to Ogwumike's teammate, shooting guard Lexie Brown, Nneka should be in the MVP conversation.
As the second half of the season begins today, the Sparks are a team to keep an eye on. L.A. is currently tied with Atlanta and Dallas for sixth in the standings at 10-12 overall. The Sparks have won four of their last six games and are beginning to gain momentum following a 6-10 start. 
L.A. has already faced the hardest part of its schedule, playing eight of its first 11 games on the road in May. Other than a four-game road trip to the east coast for a week at the beginning of August, the Sparks will spend the remainder of the regular season on the west coast.
Ogwumike's former teammate Candace Parker and the Chicago Sky proved last season that you just need to get in the dance, it doesn't matter how you get there. For Nneka, she's not focused on winning MVP, she wants that second piece of jewelry.
"I want a ring… I want a ring," Ogwumike said with a chuckle and a smile in response to a question about being in the MVP conversation. "I'm grateful for teammates that advocate for me. I want to be great and I'm great because of my teammates. Everyone knows what the goal is."
With the schedule in their favor and the team playing relatively well as of late, the Sparks are confident going into the home stretch of the season.
"We're going to get both for her," Brown proclaimed about Nneka winning MVP and a championship this season.
If L.A. continues to rise up the standings, Ogwumike's MVP case will get stronger. Don't be surprised if and when the Sparks make a run in the postseason this year. Lexie tried to tell you.