Paying for potential isn't cheap. And while it's easy to label the Cavaliers losers in the three-team trade that saw them trade Larry Nance Jr. and Denver's 2nd round pick for Lauri Markkanen and giving Markkanen a 4 year/$67 million contract, Cavs general manager Koby Altman is betting on that potential he is paying for to pay off. 
The bet isn't just on Markkanen being able to flourish outside of Chicago, but on his strengths complimenting the rest of this roster properly as they develop into winning players. 
While Nance is clearly the superior player, Markkanen is 4 years younger and offers the missing key to unlock this offense's potential; the ability to stretch the floor above the break.
The Cavaliers often run a single action on offense with one of their guards creating off of that action which is often a pick and roll: it's how they finished 13th in pick and roll possessions with such a stagnant playbook. 
Related: Cleveland Cavaliers Social Media Directory
Having a big man that a defense has to respect at Lauri's level (he was the 12th best big at above the break threes shooting at least 15 attempts last year) will provide Garland and Sexton legitimate NBA spacing to work with as they continue to develop their decision-making and playmaking skills to unlock their full potentials.
Markkanen hasn't been able to develop as more than that on offense and is below average on defense. He plays with effort on that end at least and isn't the negative he was when he first came into that league so he should be able to slot in next to both Evan Mobley and Jarrett Allen and fit quite nicely.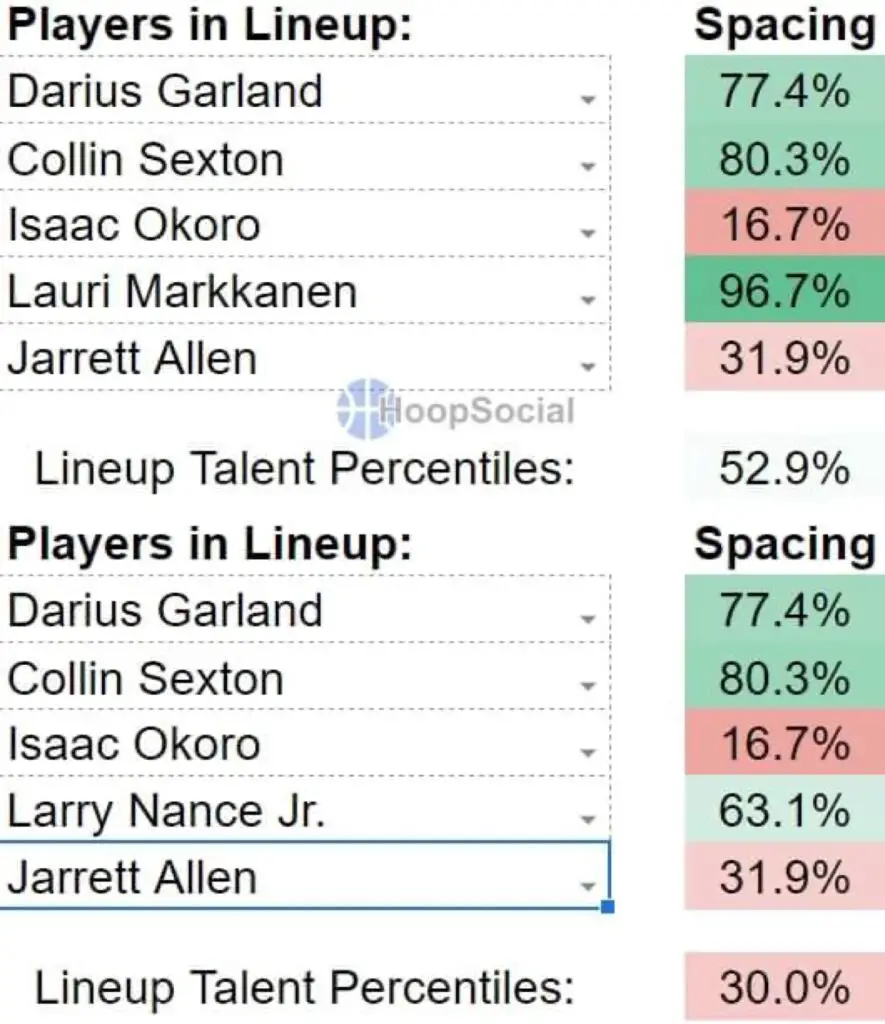 With Isaac Okoro occupying one corner, if Mobley and Allen can develop a shot from the other to go with Lauri's spacing above the beak, Garland and Sexton could be looking at a lot of open court to work with inside the arc.
With the Warriors dynasty gone and LeBron on the downswing, the NBA is going through a power vacuum to fill the void. Every team wants to be better and there has never been more talent in the league. 
The Cavaliers have one of the youngest starting lineups in the league and just added a 24-year-old stretch big to address this team's biggest need. And not only does it address a need but it empowers your potential franchise guys to develop with spacing and reach their ceiling. 
Today, the NBA world is looking at the Cavaliers as if they just traded for Paul Pierce and Kevin Garnett. But in 5 years when Garland is reading a pick and roll perfectly and carving up a defense like we just watched Trae Young emerge on the scene, I'll look back at this trade and overpay on the contract extension as when the Cavaliers decided to put that development as the priority. 
That's a tall task to ask for Garland and this Cavs team to become what the Hawks are now but they have the potential. Like I said, potential isn't cheap.