West: Denver Nuggets vs. Los Angeles Lakers
History: These teams met four times during the regular season, splitting the series, but all four were before the trade-deadline reshuffling that completely overhauled the Lakers' season, so takeaways from those games aren't always applicable to the coming battle.
Can Anthony Davis slow Nikola Jokic?
You might not think there's a better player in the world to guard Nikola Jokic than Anthony Davis. You might not even be wrong! But in actuality, Jokic has scored just fine against AD and the Lakers, dropping 31, 25, 23, and 14 in their four games (and that 14 is misleading; Jokic shot 5-for-5 from the field and had 16 assists in a comfortable Nuggets victory over a LeBron- and AD-less Lakers squad).
When AD was Jokic's primary defender, the Joker shot 16-for-25 overall, which is very solid. But he canned just one triple in seven tries, meaning he shot 15-for-18 from two-point range. In other words, when he chose to score, Davis didn't have much say in the matter.
AD is a physical specimen, but nobody this side of Joel Embiid is as brutal as Jokic when he decides he wants to go places. As the old Joke goes: where does the 300-pound Serbian sit? Anywhere he wants: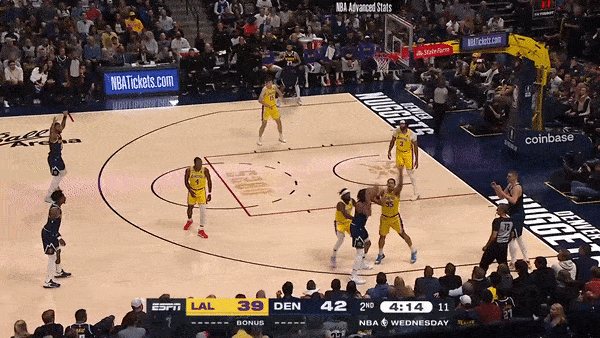 The Nuggets will likely mimic the Warriors by putting Anthony Davis in the pick-and-roll as much as possible to minimize his effect as a rim-protector. Jamal Murray is the best in the business at getting all the way to the hoop, forcing the big man to commit, before passing back to Jokic in floater-land at the last possible second. Expect to see this same play a lot: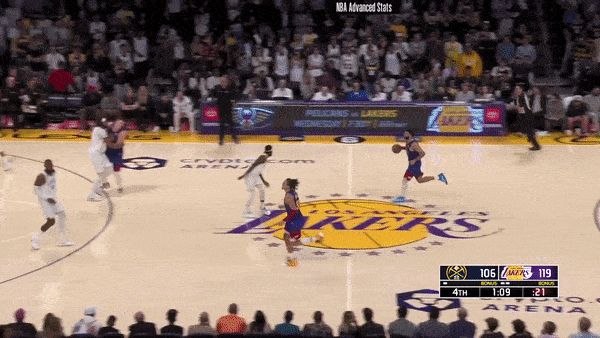 What's fascinating about the Nuggets is that they'll run inverted pick-and-rolls using Jamal Murray as the screener and Nikola Jokic as the ballhandler, although we didn't see much of that against Los Angeles this season. How the Lakers attempt to defend that will be fascinating.
The Lakers have generally lived with letting AD try his best to limit Jokic one-on-one, but coach Darvin Ham will undoubtedly try a number of things to slow the unstoppable Nuggets offense. The Lakers will ignore mediocre shooters like Bruce Brown, Christian Braun, and Aaron Gordon to help on Jokic, but that won't be anything the Nuggets haven't seen before.
There's no stopping Jokic. But if the Lakers want the upset, they'll need AD to put the brakes on him at least a little bit.
Will the Lakers keep living at the foul line?
The key to the Lakers' three-yards-and-a-cloud-of-dust offense is manufacturing points at the free-throw line. Since the trade deadline, the Lakers averaged 24.9 points per 100 possessions from the FT line, second in the league behind Philly. Denver, however, was the fifth-stingiest at giving up free throws, allowing just 18.6 FTs per 100 possessions.
We know what Los Angeles is going to do. Per Cleaning the Glass, every Lakers rotation player except D'Angelo Russell is at or above the median for positional foul drawing. LeBron and AD can draw contact whenever they want, and guards Austin Reaves and Dennis Schroder are also underrated free-throw artists.
Denver did well during the regular season, holding the Lakers to an average of just 16 made free throws per game. One slight upside of not having a vertical rim-protector: there aren't any mid-air collisions sending shooters to the charity stripe. The Nuggets have some handsy perimeter players, but only sixth man Bruce Brown is liable to run into consistent foul trouble.
Something to watch: what are the Denver big-man matchups? The obvious ones are Jokic on Davis and premier stopper Aaron Gordon on LeBron. Still, I wonder if we won't see a little of Gordon on Davis and Michael Porter Jr. on LeBron, letting Jokic help off of a weaker shooter and keeping him out of the action. James' increasingly perimeter-oriented game won't put the stress on Porter as much as it would've in the past. I don't think those matchups would be viable long-term, but they could be effective as a curveball.
Regardless, it's highly likely that the Lakers will end up with more free throws than the Nuggets in the aggregate; that's baked into how the two teams play. So it's up to Denver to make sure they avoid the trap of complaining and worrying about whistles. If Denver can maintain composure (they compiled the 11th-most technical fouls in the league this year), they should be able to slow the Lakers enough to win the series.
East: Boston Celtics vs. Miami Heat
History: These teams meet in the Eastern Conference Finals for the third time in four years with largely the same cast of characters. They split four regular-season matchups this year, but the most recent one was January 2nd, so it's been a while since they've seen each other.
Can Bam step up?
The Heat have had remarkable success this postseason despite losing their best shooter in Tyler Herro early in the first round (and reserve guard Victor Oladipo shortly after that — it's crazy how few Heat ballhandlers are still standing). Boston, though, is an entirely different beast. It's easy to argue that the Heat are thinner and the Celtics deeper than each squad was last season, when the Celtics advanced after Jimmy Butler's would-be dagger fell just short in Game 7.
We aren't sure what version of Jimmy Butler we'll get yet; he was never the same after rolling his ankle early on against the Knicks in Round 2. Although he averaged 25 points per game in the series, he shot just 43% from the field and 11% (not a typo) from deep.
So can Bam step up and be the guy? In Miami's two wins against the Celtics this season, Bam scored 28 and 30 points. His motor and athleticism can give Al Horford problems in space (although Horford is fresh off a dominant defensive performance against a hobbled Joel Embiid), and Robert Williams didn't look comfortable guarding Bam one-on-one in the single matchup they played this season.
Miami loves to run side pick-and-rolls near the elbow to get Bam the ball at the free-throw line. Shots like these may make the analytically-inclined a bit queasy but are a good bellwether for Bam's aggressiveness: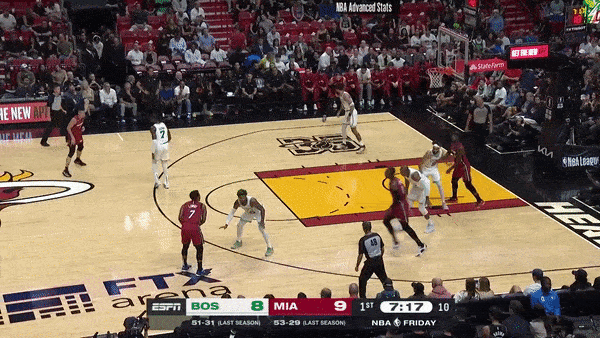 Bam's high release point allows him to get this shot off against the Brook Lopezes and Joel Embiids of the world; Horford has no chance of contesting it.
Bam's aggressiveness can come and go, but he has actively looked for his shot throughout these playoffs. With a potentially hobbled Jimmy and no clear-cut third option, Bam has to average 20 attempts per game for Miami to cobble together enough offense. Miami's role players will also need to hit threes, which is much easier if Bam commands attention in the middle.
How much does Robert Williams play?
Jayson Tatum and Jaylen Brown will score loads of points, and the Celtics can always find some winning combination with their three-headed monster of Derrick White, Malcolm Brogdon, and Marcus Smart. Center Al Horford is ol' reliable in the middle. But the frontcourt depth has been a little shaky at times, particularly with Grant Williams nailed to the pine for much of the playoffs. A longer leash for Robert Williams could be the answer.
Time Lord terrorized Miami in last year's series, but he's been inconsistent this postseason, and he has seen his playing time yo-yo depending on the night. A starter last year, Williams has been chiefly a bench option under new coach Joe Mazzulla. However, Mazzulla started Rob over Derrick White for the last two games of the series against Philadelphia, and his vertical spacing and active help defense flummoxed Philly. He tied with Marcus Smart for a team-high +18 in Game 6 and played nearly every meaningful minute of the clinching Game 7.
Williams is fast enough to help off a corner shooter, clogging the paint, but still get back in time to contest a shot. Heat fans still have nightmares about this block from last season: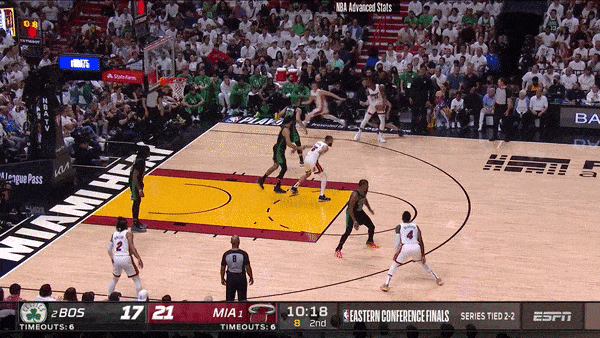 The Celtics are a different team with Williams in. They prefer to play with five shooters on the floor, but Williams' acrobatic leaping creates vertical pressure that Miami has to respect in the pick-and-roll, and his quick-twitch reflexes are helpful against a Miami team that loves to spray the ball around.
That said, there's a reason Mazzulla has been slow to trust Williams this year. He's looked a little less explosive (injuries have taken a toll), and he's fallen back into some bad habits: jumping out of rebounding position and falling for pump-fakes too easily.
Coach Mazzulla has consistently preferred shorter, faster lineups this season featuring a third guard in Derrick White, but the last series showed that he's flexible. Miami is a small team, and it'll be interesting to see just how often the Celtics turn to a two-big look with Al Horford and Robert Williams, particularly if the Heat start Caleb Martin over Kevin Love. 
If you enjoyed this article, please subscribe to basketballpoetry.com to have more delivered directly to your mailbox every Tuesday and Friday! Also, please follow me on Twitter @bballispoetry. Thanks!