Happy New Year everyone, I hope you are all safe. With a new year comes a new possibility. A new year also brings more opportunities for more trades before the trade deadline. Here are some trades a few teams should consider making going into the new year to improve their present (or improve their future roster).
Trade #1: Raptors – Pacers Trade
Raptors Receive: Myles Turner, Caris LeVert
Pacers Receive: Pascal Siakam, Chris Boucher, Svi Mykhailiuk 
In this deal The Raptors and Pacers,both are able to solve positional issues that both teams currently have. With the emergence of Scottie Barnes and OG Anunoby at the Forward spots Siakam has in some ways become expendable for the Raptors. As for the Pacers, they are currently starting two Centers with Turner and Domantas Sabonis in the starting lineup. With this trade, The Pacers turn Turner into a starting quality Power Forward in Siakam, who would fit better alongside Sabonis, who can now play full time Center. The Pacers also get a backup Center in Boucher and another wing in Mykhailiuk to replace LeVert. As for the Raptors, they Turned Siakam into a starting Center in Turner and a quality wing player in LeVert to replace some of Siakam's scoring production.
Trade #2: Sixers – Bulls Trade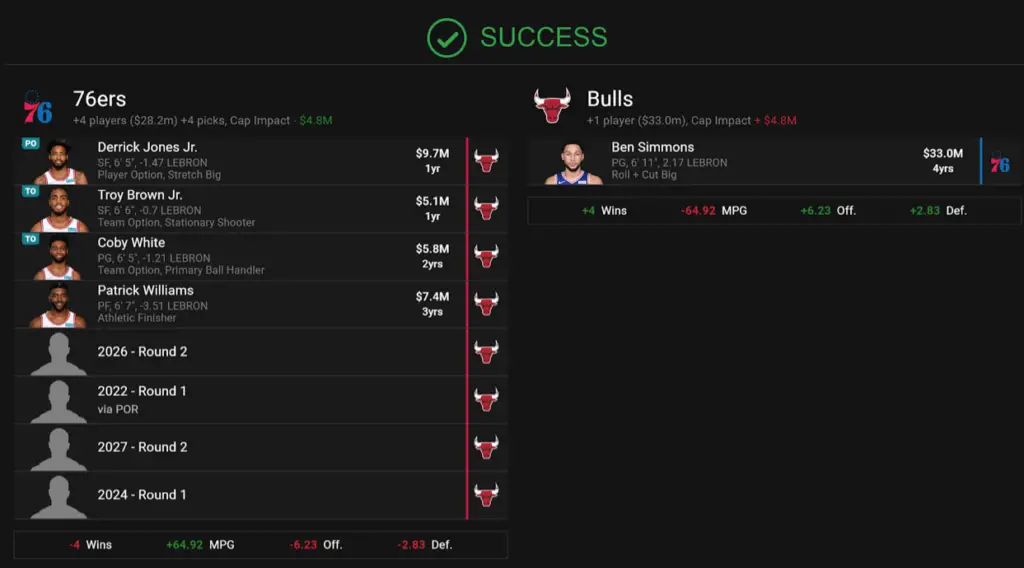 76ers Receive: Patrick Williams, Coby White, Troy Brown Jr, Derrick Jones Jr, 2022 First Round Pick (Via Portland), 2024 First Round Pick, 2026 Second Round Pick, 2027 Second Round Pick
Bulls Receive: Ben Simmons 
I first made this particular trade in my Ben Simmons piece. With this trade, the Chicago Bulls go all in on trying to win the championship. They already have a solid core of Demar Derozan, Zach Lavine, Lonzo Ball, Nikola Vucevic and Alex Caruso. Adding Simmons may be the final piece they could use to make a push for a deep playoff run and possibly an NBA championship as well. Plus, I'm sure Simmons would welcome a change of scenery as well. Also at 6'10, Simmons gives the Bulls flexibility and versatility on both ends of the floor. Sure the Bulls give up the likes of young prospects such as White and Williams (who's injured at the moment, thus will miss the rest of the season). However, Simmons is far better than both White and Williams, as Simmons is a better playmaker than White as well as a better defender than Williams.
As for the 76ers, they get young prospects White and Williams, as well as Troy Brown Jr. Also, they get Derrick Jones Jr, who could help the 76ers rotation and play right away. More importantly, they get four future picks to help bolster their roster in the future.
Trade #3: Mavs – Celtics Trade
Mavs Receive: Jaylen Brown, Romeo Langford
Celtics Receive: Tim Hardaway Jr, Dorian Finney-Smith, Jalen Brunson, 2025 First Round Pick, 2027First Round Pick, 2028 Second Round Pick
With this Trade, the Mavs goes all in on Jaylen Brown. Giving up a few key Assets and a few picks for Brown to pair with Luka and Porzingis. This trade seems unlikely, but if enough picks are thrown in, I could see the Celtics thinking about it (and possibly doing it), They can use the picks to rebuild their core and building their picks for trade assets. Brown is better for Hardaway Jr, Brunson and Finney-Smith but those three guys could possibly help the Celtics more in the long term. Hardaway Jr could be a short term replacement for Brown; Brunson can be the Celtics best Point Guard and Finney-Smith Versatility could help the Celtics on both ends of the floor. Also, if the Brown and Luka combo don't work, they get some decent picks from the Mavs. Speaking of the Mavs, this is a gamble for them, giving up most of the core players around Luka for the secondary star in Brown that could take the Mavs to the next level (if it works).
Trade #4: Rockets – Thunder Trade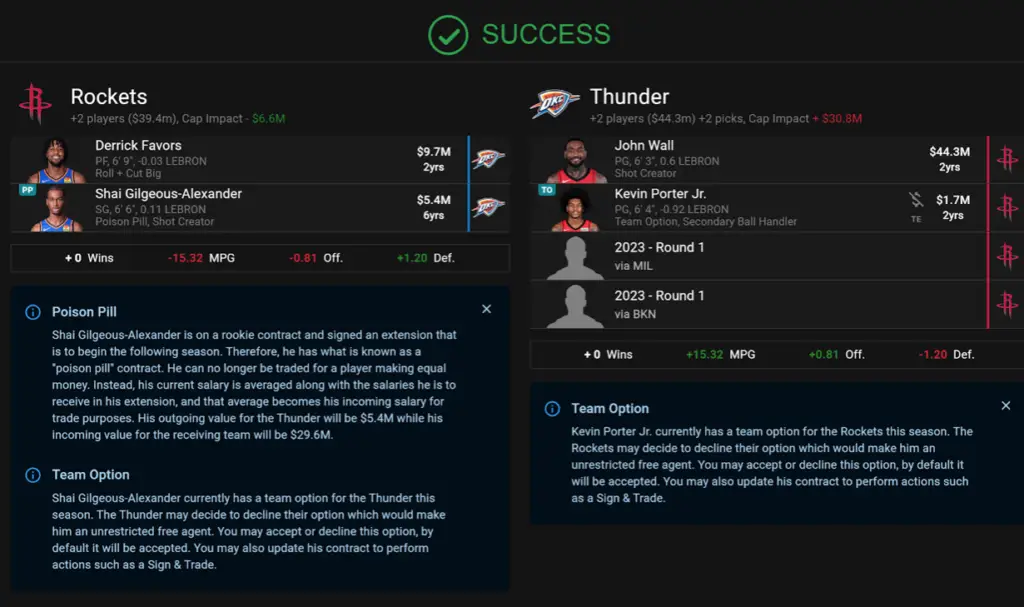 Rockets Receive: Derrick Favors, Shai Gillgeous-Alexander
Thunder Receive: John Wall, Kevin Porter Jr, 2023 First Round Pick (Via Milwaukee), 2023 First Round Pick (Via Brooklyn)
The Rockets get to take a chance on Gillgeous-Alexander, who could be their Point Guard of the future for them. He's definitely a better player than Porter Jr and only two years older than Porter Jr. Plus, they get to get rid of Wall and his massive contract as well. As for the Thunder they get to acquire two picks for their trouble for giving up Gillgeous-Alexander to add to their bunch of other assets. Sure, they'll have to take on Wall as well, but it's it won't impact their bottom line since they are significantly under the salary cap.
Trade #5: Hornets – Pacers Trade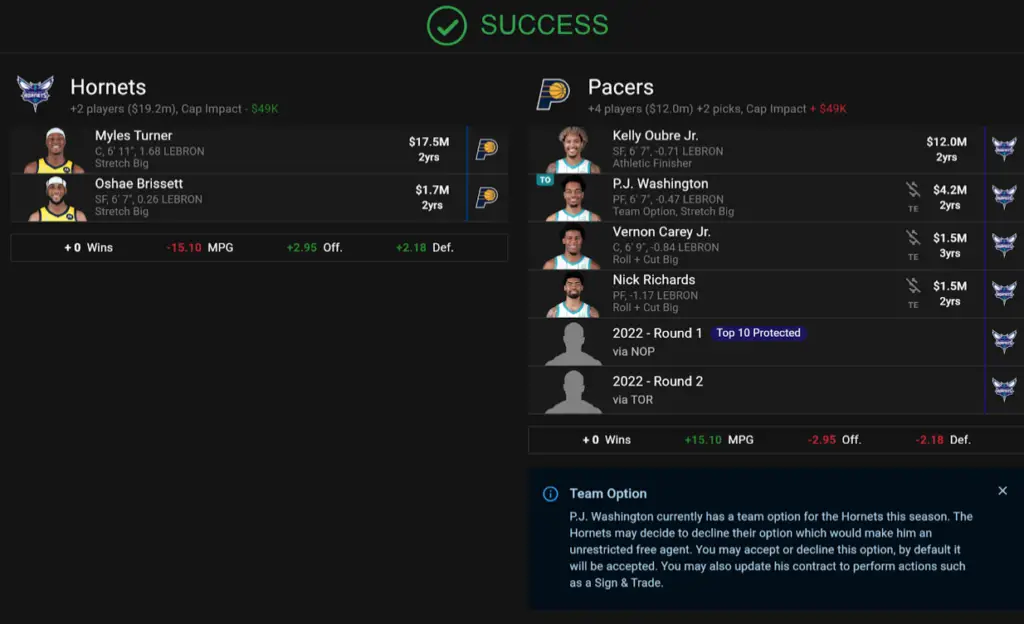 Hornets Receive: Myles Turner, Oshae Brissett
Pacers Receive: Kelly Oubre Jr, PJ Washington, Vernon Carey Jr, Nick Richards, 2022 First Round Pick (Top Ten Protected, Via New Orleans), 2022 Second Round Pick (Via Toronto)
For the Hornets they get the upgrade at Center they needed in Turner, who can space the floor and protect the rim as well as improve the Hornets rebounding numbers. They also get a young wing player in Brissett. As for the Pacers they get to turn Turner into a couple of picks and some young Forwards in Oubre Jr and Washington. They also acquired young Centers in Carey Jr and Richards.
Well there you have it, five interesting trades that a few teams should consider making going into the new year to improve their present (or future roster). Hopefully we can get a more active trade market in 2022 and see many teams make moves and take chances to improve their present rosters. We'll have to wait and see if that will be the case for many teams across the league.