The giant stars of the game cast the biggest shadows on their peers. I suppose that has to be the case as we inevitably attempt to rank these individual players on their talents.
Shine the brightest in your tier? Well, get ready to have to try and outshine in the next tier up. That happens over and over until you get to that top tier. I guess that explains all the shade constantly thrown between Jordan and LeBron fanbases.
For players like RJ Barrett, who come up through the ranks during the same era as an all-time great (or a player who is poised to become one), it can be hard to carve out your own space in the league.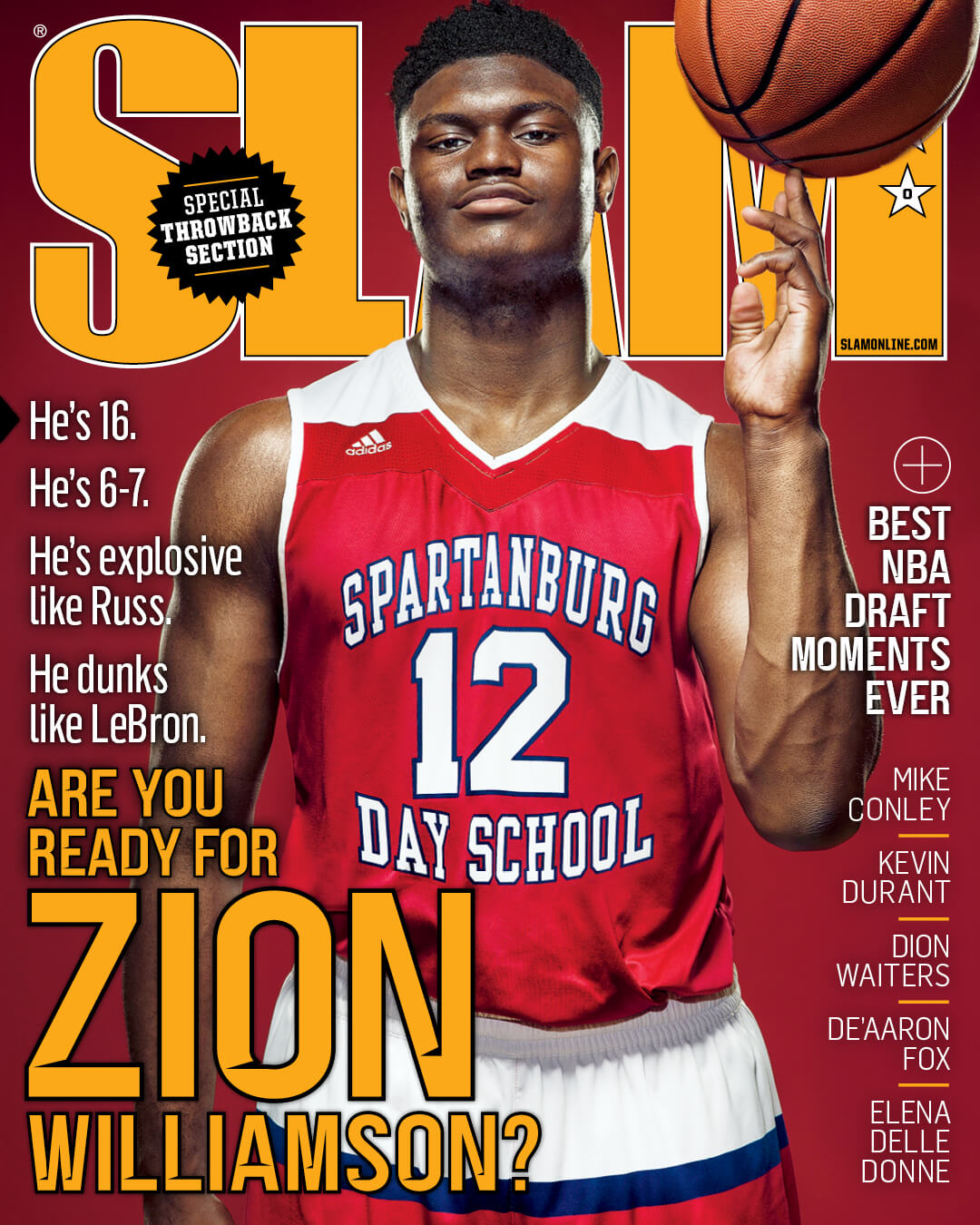 Zion Williamson's shadow is the biggest from a young NBA player since social media has really taken off. The hype surrounding LeBron I feel was fairly similar but Twitter was still a few years away from existing when he was drafted into the NBA; meanwhile Zion had 1 million followers before leaving high school for Duke. 
Before ever stepping onto campus at Duke, RJ found himself stuck behind Zion's already enormous shadow.
Barrett was the #1 ranked recruit in the country at the time but he wasn't the one getting Slam magazine covers or being shared all over social media for highlight dunks. 
What Barrett did have was a father who had played professionally as well as on the Canadian National team and a godfather named Steve Nash (maybe you've heard of him?) to look up to from the time he was born. That kind of talent being around helped Barrett keep perspective on his talents and how hard he would have to work to excel at the top level of basketball. 
RJ said as much himself when he was quoted as saying "I was really good at a young age, but every day I had to walk in the house, and walk past my dad's jersey framed on the wall because he was an Olympian, so I was like, all right, I haven't done anything yet."
After an underwhelming season at Duke, Barrett joined his teammates Zion and Cam Reddish in declaring for the NBA draft and once again, Barrett was in the shadow of what was hyped as a Zion or bust draft lottery. Leading up to the draft lottery, the Knicks fans had worked themselves up into a frenzy and the expectations had become Zion coming to New York along with Kevin Durant and Kyrie Irving.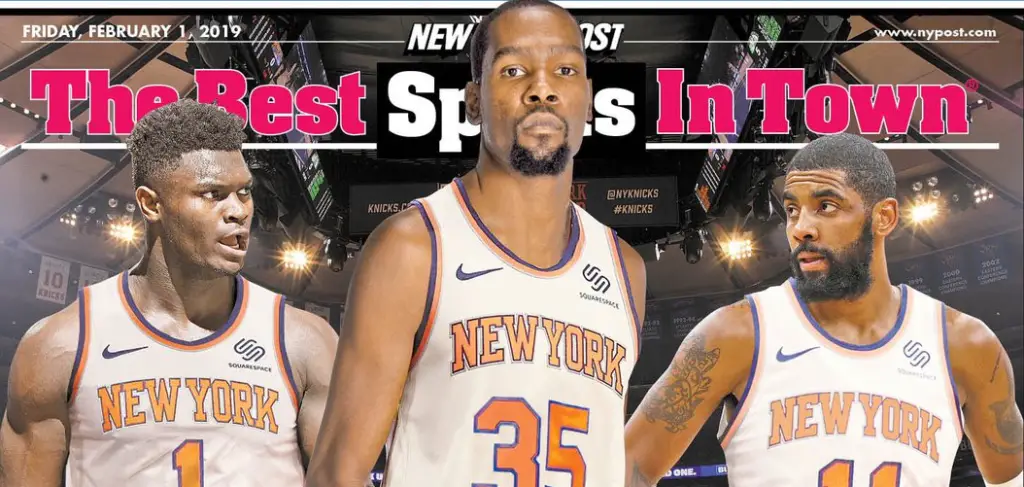 Instead, they end up at #3 and miss out on both Zion and what turned out to be another can't miss prospect in Ja Morant and were left with what was considered the consolation prize in the former #1 ranked prospect out of Canada. But to say it took the air out of the fans to go from hoping for a trio of that to getting Julius Randle and Barrett would be an understatement. 
RJ didn't help himself much his rookie year, often looking out of place and overmatched after being thrust into the spotlight that is being picked in a franchise level spot and competing in Madison Square Garden every other game. 
Looking back now, I think a lot of the problem was adjusting to the speed of the NBA game, a lack of talent around him to help spread the floor and give him room to work, and a coaching staff that wasn't as good as maximizing the talent on the roster at hand. With Randle stretching the floor with his three point shot this year and Thibs having the defense playing on a string, RJ Barrett is finally putting all of his tools together.
Barrett's Game is Trending in the Right Direction
Let's look at the offensive end of the floor first. With an offensive rating of 33.1 according to BBall Index, Barrett is responsible for more of his team's offensive than 81% of the league. And while their offense as a whole struggles when compared to some of the others in the league, when Barrett is playing they score on a per possession basis as well as 80% of the rest of the league. And the way Barrett is able to score on so many possessions is because he has been an elite finisher at the rim this year.
Thanks to the spacing provided by Randle's 3 point jump, Barrett has had more room to operate on his drives to the rim. And as one of the league leaders in drives per game, RJ is taking advantage of that spacing to attack the rim, raising his finishing at the rim overall rating from a -1.3 his rookie year to a +0.6 and one of the best marks in the league so far this year. 
Combine that with the Knicks being in the top ten in offensive rebound rate this season and the flashbacks from Thibs season with Rose winning MVP have happened more than once while I've been watching them this year and while Barrett doesn't have the first step of Rose, the spacing makes up for it. With Randle playing the Noah role as a big who can create, the chemistry between Barrett and Randle has been palpable.
He's also proven to be able to use his threat to score to open up passing lanes and the court vision to get assists on a wide variety of shots. His ratings for both passing versatility and passing creation are towards the top of the league and once he gets the turnovers and occasional wild passes fixed his playmaking numbers will skyrocket even higher. 
This team also is a defensive oriented team outside of Barrett and Randle so I give him a little leeway on the turnovers; it's a lot harder for him to create off the dribble than a player surrounded by offensive threats.
That trade off is part of what has made the New York Knicks so successful this year. Making adjustments from his time off from the Timberwolves job, Thibs has shown his defensive talent by turning this team into the best defense in the league. Part of that is the bigs' willingness to challenge the perimeter shot (their centers contest more threes than any other team) but it also relies on Barrett and the other guards to hold their own in the post. 
Barrett has been towards the top of the league in both defensive role and position versatility. So whether he's guarding out of position or all over the court, Barrett has been one of the key cogs in the Knicks machine this year.
A Key Piece of the Knicks' Present and Future Direction
The Knicks are clearly prioritizing RJ in both their current style of play and their plans for building in the future, even if he doesn't turn out to be the generational-type talent Knicks fans hoped they had landed.
Much like Carmelo and LeBron, there's a good chance that we never see Barrett outside of the shadow that is Zion. But at only 20 years old, RJ is showing his love for the game and his passion to get better is going to translate into being a quality, productive player.
Add that to the natural gifts he already has and I'm not selling my Barrett stock anytime soon. Even in the shadow of Zion, Barrett can shine plenty bright all on his own.
About Trey Hill: Podcast host over at Charity Stripe Commentary, scouring NBA Twitter content over on @finalfinally, and of course writing for HoopSocial!