"…Don't mean a thing without the ring."
The quote originates from that magical '95-'96 Chicago Bulls season where the team managed to set the single season win record with a 72-10 regular season campaign. But the quote makes it clear; none of that matters if the team fails to finish the job in the playoffs and hold the Larry O'Brien trophy when it's all said and done.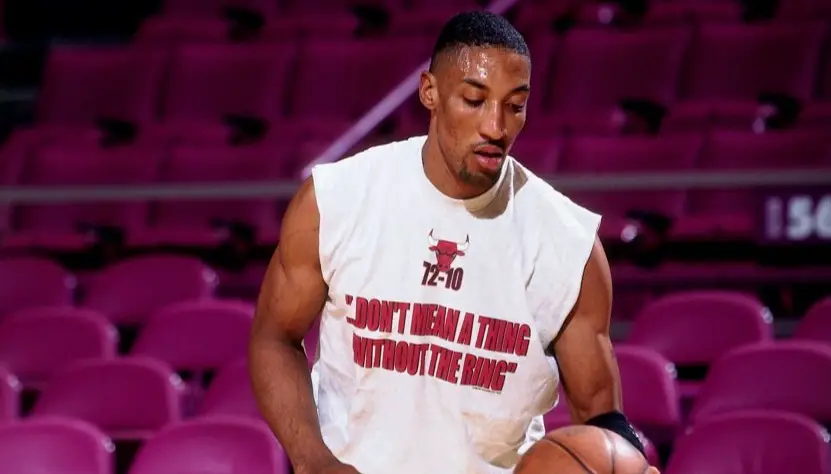 The basketball world knows what came next. Michael Jordan and company proceeded to win that ring and two more after that before Jordan retired his Bulls jersey for good and that phrase would fade away. But nothing stays buried forever. So when Steph Curry decided he was going to come and completely change the way the game is played with some help from Draymond Green, Klay Thompson and the rest and they managed to eclipse that 72-10 record with a 73-9 mark of their own, the quote resurfaced once again.
And after LeBron James completed the best comeback in NBA history to bring Cleveland a title, that quote is just now starting to fade back into the basketball ether. The sentiment, however, has never left.
Russell Westbrook is a winner. Always has been. And it's always been earned through hard work, effort, and a determination on the basketball court that is nearly unrivaled throughout the league's history. Look no further than the words of the late Kobe Bryant, known so well for his tenacity the words 'Mamba Mentality' have a meaning all their own. "When I turn on the TV and I watch players play, the player that plays with the same kind of emotion and grit and competitive intensity is Russell [Westbrook]," Bryant said of the All-Star guard.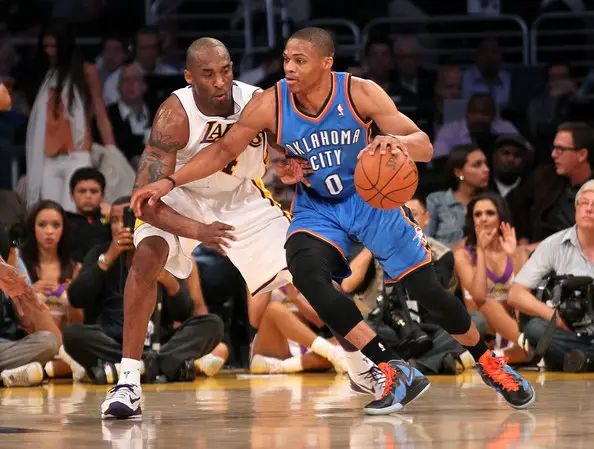 And while Jordan had to embellish his high school stories for motivation, Westbrook was a late bloomer and didn't even start for his high school team until his junior year. Only after Jordan Farmar declared for the NBA draft at UCLA did an offer come from a top tier college program come calling for Westbrook to have the chance to showcase his talents. And after Darren Collison was injured at the beginning of Westbrook's sophomore season, Russell finally had the chance to start and with that he was able to get All-Pac third team honors to go along with their defensive player of the year award before going to a second straight Final Four appearance in as many tries. From there, he wasn't getting overlooked anymore.
Once you get that chip on your shoulder though, some people never lose it. And by bringing that intensity on the court every single night, Westbrook was able to use his explosive athleticism combined with the talent around him to become the best basketball player he could possibly be. But injuries to the core four led to them only making one Finals appearance before Harden was shipped out of town and the positive vibes around the team started shifting.
Westbrook's best chance at a Finals win came when the Thunder were a Klay Thompson explosion away from beating the 73-9 Warriors as Westbrook, Durant, and the Thunder blew a 3-1 lead before the Warriors had the chance to blow their own 3-1 lead the next series and overshadow the letdown that led Durant to Golden State.
Most valuable player. With Durant off in Golden State raining threes over LeBron in the Finals, Russell Westbrook was the last of the big three left in Oklahoma City and he earned the most valuable player trophy with a career year. Shooting more threes at a higher percentage than he ever has in any other year for his career, Westbrook took the mantle of team leader and put up numbers up until then most people thought impossible.
Not only did he pull off averaging a triple double for the entire year, he did so while putting up 31 points a game and embracing his role as the guy on a team. With his style of play and being the point guard there had always been a bit of a tug-of-war it seemed between Durant and Westbrook but for the first time in his life, Westbrook had the chance to carry a team on his shoulders and he excelled.
Stars shine bright and burn out just as quickly sometimes though and as fast the NBA world wrapped their arms around him to celebrate the one who stayed it would turn on him as the analytics storm finally moved from baseball over to basketball.
Between the Rockets having their G League squad shooting threes at record paces or Steph Curry showing the gravity one man could draw on a court, the three point shot was here to stay just as Westbrook was hitting his prime. Other than his one glorious MVP season, Westbrook fans have had to defend him to the rest of the NBA world from holding Kevin Durant and James Harden back in the big three days to not being good enough to be the #1 option or play a style that can win a title as a #2 option on offense.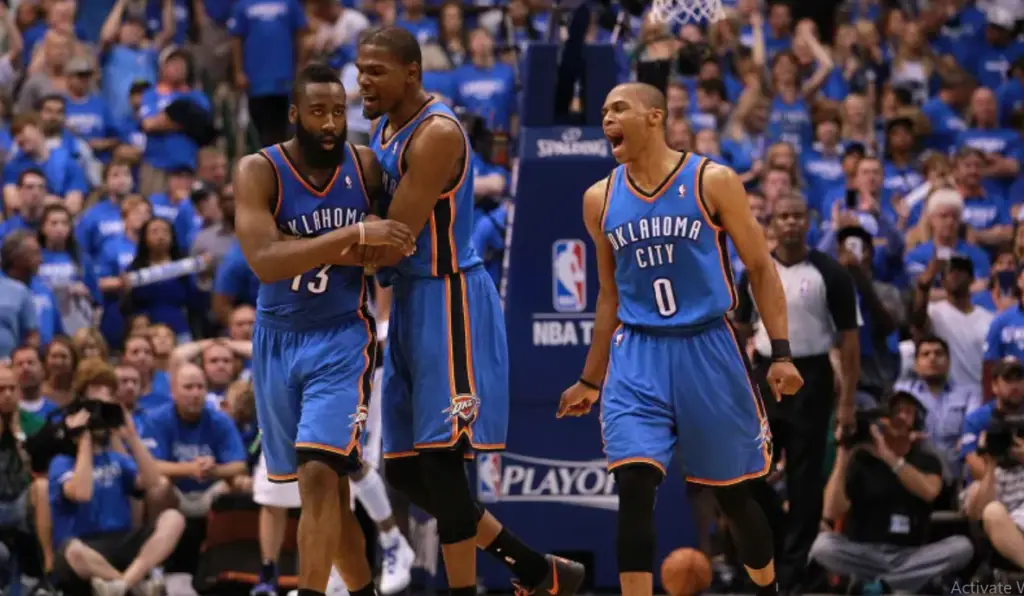 On the tail end of his prime, the writing has been on the wall for Westbrook since Durant left in terms of his long term potential. To relentless to not be a force of nature while on the court but just not quite at level to compete for championships anymore. And in the culture of "don't mean a thing without the ring", the notion that a player as talented as Westbrook wasn't adapting his game more to the changing style of play was seen as an affront to the basketball gods. 
Westbrook isn't the first guy to not quite get to that final tier in his career and he won't be the last. But Westbrook was also the guy who was going to give you everything he had every night and was going to be able to go toe-to-toe with any given talent on any given night because when Westbrook was on, he was in that tier of the best players on the planet. Instead of a shining bright light though we always just got the flickers, and instead of appreciating that Westbrook is looked at as a bad player.
I remember Ben Gordon going toe-to-toe with Ray Allen in the best first round series ever with the Bulls-Celtics matchup that was Rose's coming out party. Watching my Bulls and Luol Deng snap that Miami winning streak is still one of my favorite sports memories and even though that team never won a title I wouldn't trade those seasons with Rose, Deng, Noah, Butler, Taj, and the rest.
They were warriors who every night I knew I was going to get to see a show and a quality basketball game. That's what Westbrook has single handedly been able to bring for a decade. And while his championship level prime might have only been a handful of years, the totality of his talents have been as overlooked as Westbrook was coming out of high school. Life is cyclical that way, but don't tell that to Russ:
"A championship don't change my life. I'm happy. I was a champion once I made it to the NBA. I grew up in the streets. I'm a champion. I don't have to be an NBA champion. I know many people that got NBA championships that's miserable, haven't done nothing for their community, haven't done nothing for the people in our world.

Russell Westbrook, via Fred Katz of The Athletic
And he's right. Westbrook was a champion in life as soon as he stepped on the NBA court. He might not finish his career with any more Finals appearances and likely won't be a key factor on a title team anytime in his career. However, just look at the impact his force of personality has had on this Wizards team during this latest stretch. "Westbrook with his intensity and his toughness, they have taken on a personality of his, his personality. I think that's the difference with this team when we've played them all year," Pistons coach Dwayne Casey was quoted as saying after a recent game.
There is a value in changing a culture, showing other players the effort level it takes to be elite, and how to be able to handle the media while still having a personality. Not only a star player but a veteran leader in the locker room using that force of personality to motivate even all-star level players such as Beal. "It's motivating. It just trickles down to the rest of us. We kind of embrace that." Beal said after that same game against the Pistons. Thunder fans (and Rockets fans for a year) will have plenty of fond memories to remember the Westbrook years by. Now that Westbrook has managed to take over the Wizards locker room and the team is better for it both on and off the court, Wizards fans are going to have those same positive memories of Westbrook suiting up and giving his all every night. Just because he didn't get a ring doesn't mean it didn't mean a thing.
About Trey Hill: Podcast host over at Charity Stripe Commentary, scouring NBA Twitter content over on @finalfinally, and of course writing for HoopSocial!