町田瑠璃地区へようこそ
On Monday, April 25, 2022, the Washington Mystics held a press conference at 8:00 pm EST: 9:00 am in Japan. 
From the moment I entered the practice arena, I felt the vibe. An electric hum encompasses the room.  Every person moves with a quickness, preparing for the global introduction of Rui Machida. The Washington Mystics pulled out all the stops. The only thing missing was an actual red carpet. 
"Hello, my name is Rui Machida, please call me Rui … I am happy to be here. I am really looking forward to play and execute my role and do what I gotta do to get a championship." 
Rui, the 29 year old point guard, stands at  5'4. She is a playmaker that can see every inch of the court. She is eager to bring her energy to the Mystics. When she is on the court you will find her directing traffic, making the no-look passes, and controlling the tempo of the game. Rui is the solid backup point guard that the Mystics have lacked since Toliver left. A pass-first guard, her goal is to create more shots for her teammates. "I want them to make more shots off of my passes.. I want to use my speed to push the ball. … I will leverage my skills to do what I have to do for the Mystics" -Rui
Rui's speed in transition plays adds to the definesive powerhouse that the Mystics have built this season. She will be able to match the intensity of starting point guard Natasha Cloud. They have created designated hand signals to help everyone communicate on the court. These types of provisions have been made to ease the language barrier. She also has her full time interpreter.
Prior to her record breaking moment in the 2020 Olympic games, she had previously played second or even third string on her Japanese National team. Never discouraged, Rui was patient. She spent a tremendous amount of time in the gym getting strong and perfecting her game. She stayed the course. In the 2020 Olympic semifinal game against France she served up 18 dimes in a single game, shattering Teresa Edward's 1996 record of 15 assists in a single game.
"To clear up any confusion, we were interested in her way before her time in the 2020 Olympics" – Coach Thibault. I asked Coach Thibault when it was that Mystics started to take notice of Rui. "It was around 2017, I think Rui was about 25 years old".  There had been plans for the Japanese national team to come to play a few exhibition games in the US, and then the pandemic shut everything down. Covid significantly changed the world of sports. The interest in Rui was shelved until covid restrictions were relaxed.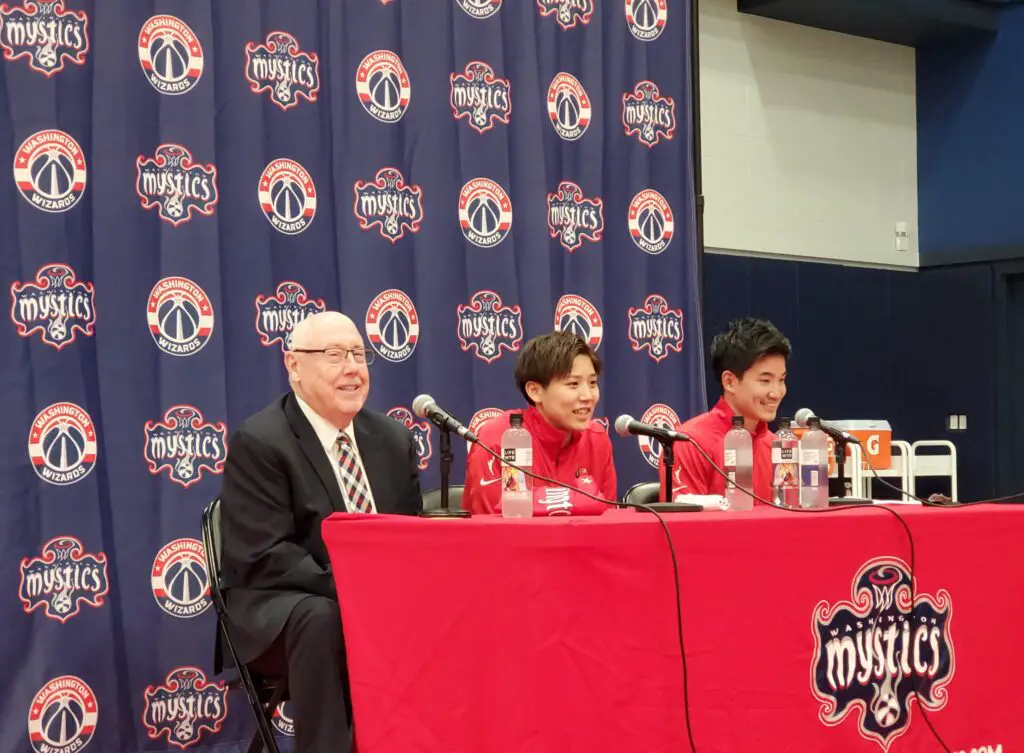 Rui never knew that playing for the WNBA could be a reality until approached by the Mystics. Once the Mystics extended the offer she knew it was the time to take this opportunity. Time to elevate her game to the next level, the WNBA. "The WNBA is the toughest in the world. It will be exciting. I will play hard, every single minute that I do play".
He doesn't say what he would define as success for Rui this season but he is ready to let her play her game, "I am not going to tell Rui how to play her game. …  We are here to show her how we do things. … I want her to do what does".  She is a fast passer, so Coach has repeatedly warned her teammates to run with their hands up to avoid getting whacked by the ball. 
Coach Thibault sees a resemblance between Rui Machida and the WNBA legend, the OG PG GOAT, Ticha Penicheiro. He comments that while Rui has a ways to go that she has a similar flow of game, all while commanding control of the floor. 
If she feels rested and things progress nicely in practice, we may see Rui in today's pre-season game against the Minnesota Lynx.