The MVP award is about to be announced, and everything we know suggests Joel Embiid will take the crown. But Embiid was forced to miss Monday night's Game 1 tilt with Boston with a knee injury, so the Celtics were widely expected to blow the Sixers out of the water.
Instead, Embiid's teammate, James Harden, came through with an avalanche of turn-back-the-clock shooting to shock the Celtics and steal home-court advantage.
I would love to say that this is why Philadelphia brought Harden aboard: to help weather the inevitable Embiid absences. But that's not quite true. Even at his best, Harden wasn't known as a playoff killer. Philly's (correct) thinking was that Harden's passing would help unlock Embiid's highest form, not that the Beard would have to carry a playoff game himself.
However, that's precisely what he did Monday night. After making a grand total of nine two-pointers in Philly's four-game sweep of the Nets (the last of which Embiid also missed), Harden went 10-for-16 against Boston. He also added seven triples, none bigger than the dagger against Al Horford to put the team up by two with 8.4 seconds left: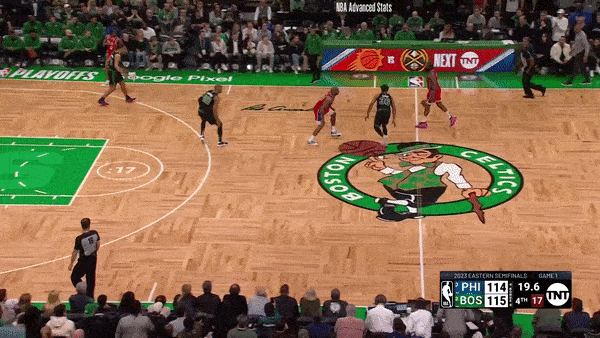 It's hard to overstate how much this means for Philadelphia. Pilfering that win from a sleepy Boston squad like a basketball Grinch, Harden (with help from Tyrese Maxey and De'Anthony Melton) has breathed life into the Sixers. Embiid can now rest his sprained LCL without fear of starting down 0-2, a difficult hole to escape, and hope to return for a home Game 3.
Just as importantly, it proves that Harden can still dominate a game, which was very much in doubt after two seasons of declining scoring ability. Boston is overflowing with excellent defenders, but they made some terrible mistakes Monday, and Harden was happy to capitalize. Even when they played fantastic defense, the Beard drained shot after shot. It was exhilarating to watch (for non-New Englanders, anyway).
Houston Harden was back like he never left. He orchestrated the Philly offense to get the switch he wanted and then cooked up some barbeque chicken. Poor Horford was especially victimized. Per Jared Dubin, Harden ran 16 pick-and-rolls involving Horford, and the team scored 1.75 points per possession. That's insane efficiency. There were times when the Sixers' offense looked exactly like the late-2010s Houston squads that stationed four shooters on the perimeter and let James work for 20 seconds before finding his spot.
And Harden delivered. He hit the open shots. He hit the contested shots. He hit the shots where the defender was in his jersey. It didn't matter.
In fact, calling him Houston Harden isn't quite right. Harden was prolific and effective in the midrange, something he was never willing or capable of doing in Houston: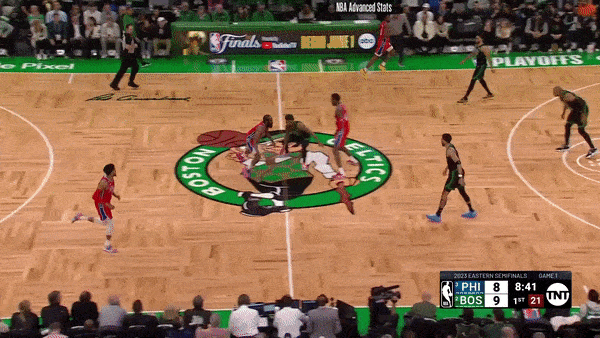 With Embiid in the game, Harden likely looks for a pass here; without him, Harden looked more than comfortable dipping into his bag for some midrange magic.
It was a wild night for both teams. Boston generally scored at will, particularly in an incendiary first half. Harden's off-ball defense was as bad as it's ever been, and he gave up an astonishing number of backdoor cuts as he ball-watched: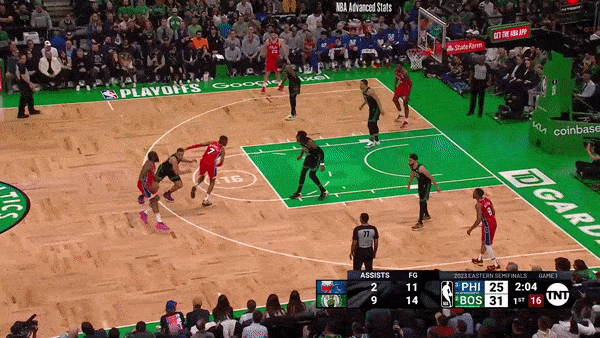 But at this point, that's a normal part of the Harden experience. Harden dropping 45 points (tying his best-ever playoff output despite just four free throws!) in the second round and hitting game-winners hasn't been.
After Embiid's injury, it was widely assumed that the 76ers — who have struggled with the Celtics for years — were dead in the water in their second-round series. But on the eve of Embiid's coronation, Harden reminded fans that the 76ers already have an MVP on the roster. And he's not going quietly into the night.
Harden's long-time playoff struggles have become the unfortunate defining characteristic of one of the league's most influential and innovative players. The combination of crunchtime letdowns, aesthetically displeasing dribble-dribble-dribble sequences, and irritating foul-hunting antics have made him the least-beloved superstar of his generation.
It's far too early to talk about legacies. If the Celtics get their stuff together and Embiid never looks fully healthy, it's tough to see the Sixers pulling this series out. (One easy fix for Boston: stop giving up such soft switches! Keep your best players on Harden!)
But if this playoff run goes somewhere, this is a match that fans will point to as a crucial inflection point. For one game, Harden rose to the moment — rose, and buried the biggest shot of his life.
Speaking of big, on the other side of the country, we might have the biggest second-round series of them all: a delectable battle between the Denver Nuggets and the Phoenix Suns. It's hard to think of two teams with more disparate styles, with the Nuggets' versatile, amorphous, ever-changing attack butting heads with the Suns' exemplary individual shotmaking. So far, Denver's two-time defending MVP Nikola Jokic has been the best player in the series.
Many had Phoenix pegged as the West's eventual winner, and their sweet-shooting combination of Kevin Durant (a former MVP himself) and Devin Booker seemed tailor-made to give the Nuggets' defense trouble. But Nikola Jokic reminded viewers why he is still, for one last night, the reigning MVP. He dominated the Suns en route to 39 points on 17-for-30 shooting and a critical Game 2 victory at home, putting Denver up 2-0 in a series most expected them to lose.
Jokic forces viewers to reconsider what "being athletic" means. He can't jump or run fast, the two most prominent aspects. But he has perhaps the best hand-eye coordination in a league filled with some of the most fluid and controlled humans on the planet. His doughy frame also hides unbelievable strength, and he has butterfly-light feet.
It's not a flashy dunk or greased-lightning-quick crossover, but this is an eminently athletic play: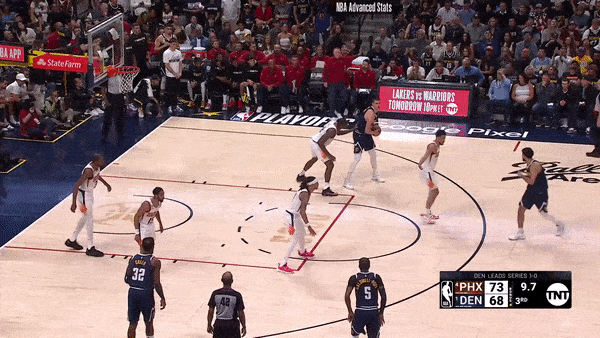 Jokic used his unique brand of athleticism to drain threes, bully his way to the rim, and loft downy-soft floaters on his way to 39 points (also with just four free throws) and 16 rebounds. His offensive versatility means he can start and finish possessions from anywhere on the floor, making it difficult to gameplan effective help defense since defenses can't predict where a given possession will begin. He's the greatest passer in the game, the best pick-setter, the most efficient scorer, and even a pretty darn good rebounder. What's a defense to do?
Phoenix's answer: let Jokic get his and limit everyone else. The Nuggets struggled with offense all night (outside of Jokic and a barrage of crucial late-game Kentavious Caldwell-Pope threes). Jamal Murray and Michael Porter Jr. combined to shoot 5-for-22 from the field, and the Earth Tones (the Nuggets' bench trio of Brown, Green, and Braun1) scored just 13 points among them.
However, the Nuggets were phenomenal defensively as well, and it's worth noting that the Suns have not been effective at attacking Jokic (particularly after Chris Paul left Game 2 with a groin injury). Too often, the Suns attempted difficult shots over the Nugs' best defenders while Jokic chilled in the middle of the paint, ignoring Josh Okogie to muck up the middle.
With Paul likely out at least a few games, the Suns will have to put multiple one-sided players on the floor at the same time. Josh Okogie and Torrey Craig likely won't bring enough shooting to warp Denver's defense, while Damion Lee and Landry Shamet risk being mowed down like so much wheat by Denver's thresher-machine offense.
As exemplary as Devin Booker and Kevin Durant are at converting tough shots, it's hard to win when Jokic and the Nuggets are piling up easy ones. If Phoenix continues to try and limit Jokic's teammates, he's proven that he can be the top scorer in a series with some of the best shotmakers in league history, and that spells trouble for Phoenix.
Like Harden, Jokic's passing gets most of the credit these days, but no one ever became MVP (twice!) without being able to score the ball. Monday night, we saw two former winners remind the world that there still aren't many who can get buckets like they can.
Yes, he really does pronounce it "Brown." So this works, dammit!
If you enjoyed this article, please subscribe to basketballpoetry.com to have more delivered directly to your mailbox every Tuesday and Friday! Also, please follow me on Twitter @bballispoetry. Thanks!