Once the NCAA somewhat rectified the weight room situation at the women's tournament in San Antonio, fan focus shifted quickly to some very entertaining first and second round performances.
Two players, both Freshmen, have stood out above the rest of the field: Caitlin Clark and Paige Bueckers of the Iowa Hawkeyes and UConn Huskies, respectively.
These former AAU teammates turned college rivals are set to face off this Saturday in the NCAA tournament's round of 16. Connecticut, seeded #1 in the River Walk region, will enter the matchup as the favorite over the 5th seeded Hawkeyes.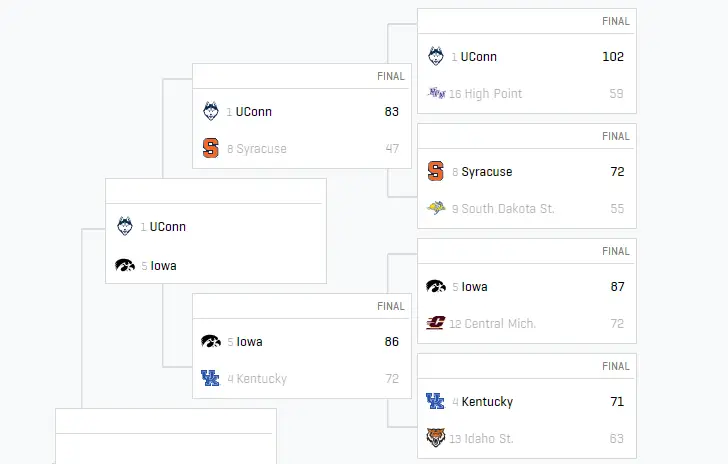 ---
Iowa's sharpshooting Caitlin Clark is hoping to spark her team to an upset win on Saturday over a Huskies team looking to make their thirteenth straight Final Four appearance.
Clark, a native of West Des Moines, Iowa, is an absolute nightmare for opposing defenses. Her handle, quick release, and ability to shoot off the dribble are un-guardable on the perimeter.
Give Caitlin an inch of space and she'll hit you with a quick crossover, step back, and bury insanely deep (often leaning) jumpers. When there isn't space to shoot, she'll shoot anyway – or, to make it even tougher on you, she'll drive to the cup and finish through contact or make a play for a teammate.
Clark finished the regular season with ridiculous numbers: a Division 1-leading 27.9 ppg average to go along with 6.9 assists per game. Her playmaking ability is often overshadowed by the scoring ability, but opposing coaches and pro scouts are certainly on notice of the complete offensive package:
"She can score it. She's a great passer… from what I've seen, Caitlin is the best freshman in the country. She's so hard to guard. She's got an NBA scoring mentality. She scores in bunches, takes tough shots. She has got an edge to her that, if she's on your team, you'd love her; if she's on the other team, it just annoys you. She has that little edge that the great players have and is not afraid to take big shots at big time."

Big 12 head coach, via The Athletic's Chantel Jennings, (2/1/21)
---
The dominance of Geno Auriemma's UConn Huskies over women's college basketball cannot be overstated. Since 1995, his teams have made it to 19 Final Fours and brought home the championship trophy a staggering 11 times.
Over that run, the list of all-time great players to suit up for Connecticut is breathtaking… but I'm not here to talk about Tina Charles. Or Breanna Stewart. Or Dianna Taurasi. Or Sue Bird. Or Maya Moore.
I am, however, here to tell you about Paige Bueckers. UConn's latest star is off to a pretty good start: she set a program record this season by averaging 6.1 assists per game – the most ever by a UConn Freshman.
Her vision and playmaking are next level, which makes it hard to not see Sue Bird in her game. Paige's smooth handle and ability to glide through the lane leaves defenders wondering what hit them.
Check out the highlights from her performance against Syracuse in the second round:
---
Paige and Caitlin will no doubt be at the top of draft boards when their time comes, and will have a few seasons to sharpen their tools before transitioning to the pros. WNBA rules currently state that a player must be four years removed from high school to be draft eligible.
Their first college matchup will take place at the Alamodome in San Antonio, TX. Tune in to ABC at 1pm EST/2pm CST on Saturday to find out who comes out on top!